February 5, 2021 at 10:18 AM
Maritime transport ended 2020 with another fall. This decline was reflected in the figures for imports and exports of goods, and especially in the collapse in the number of maritime passengers. The sector has seen decreases in activity since last April.
The goods volume of foreign sea transport was in total 8.1 million tonnes in December 2020. Sea transport decreased by 6% from last year's same period, according to Statistics Finland's data.
Exports decreased by 5% and were 4.4 million tonnes. Import volume decreased by 7% and amounted to 3.7 million tonnes.
General cargo was transported most, in total 1.3 million tonnes, which is 15% of all transport. The second most transported was oil products, 1.1 million tonnes, and crude oil, 1.0 million tonnes.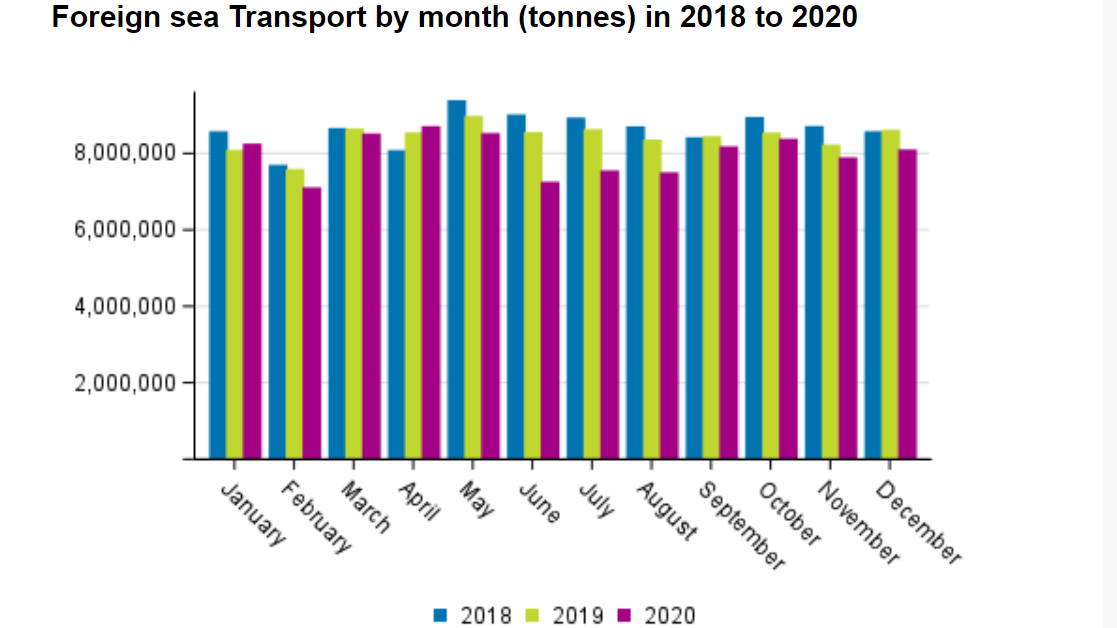 Source: Statistics Finland.
Passenger traffic
A total of 302,074 persons were transported in passenger traffic in December. In all, 197,505 persons travelled between Finland and Estonia and 100,104 persons between Finland and Sweden and 4,465 passengers between Finland and Germany.
Passengers made up only 22% of the number of passengers in December 2019. No passengers of foreign cruise ships arrived in Finland in December 2020.
Container transport
A total of 1 million tonnes of containers were transported through Finnish ports in December, which is 3% less than in December 2019. The number of containers transported was 69,791 (125,591 TEU containers).
Exports of containers went down by 5% measured in tonnes and imports grew by 1% compared to December 2019.
Vehicle transport
A total of 168,106 transport equipment were transported in foreign sea traffic in December. Most transports of transport equipment were passenger cars belonging to passengers. In December, 83,887 passenger cars were transported.
The second most transported were trucks, 51,432 and truck trailers, 29,796.
Saimaa Canal
A total of 100,064 tons of transport were registered through the Saimaa canal in foreign traffic.
Timber was transported most in vessels in foreign traffic, in total 32,725 tonnes.
The second most transported was crude minerals and cement.