February 15, 2021 at 10:34 AM
The coronavirus crisis has not only sunk Finland's tourism and air traffic sectors. The industry and services sectors also went through a very difficult year 2020, which ended with huge falls in turnover and output.
Furloughs, layoffs, bankruptcies and business closures have been present every day in the year of the great pandemic, in which most year-on-year economic indicators show declines.
According to fresh data from Statistics Finland, working day adjusted turnover in service industries fell by 10.8% in December 2020 from December 2019. Service output or volume, from which the impact of prices has been eliminated, fell by 7.9% over the same period.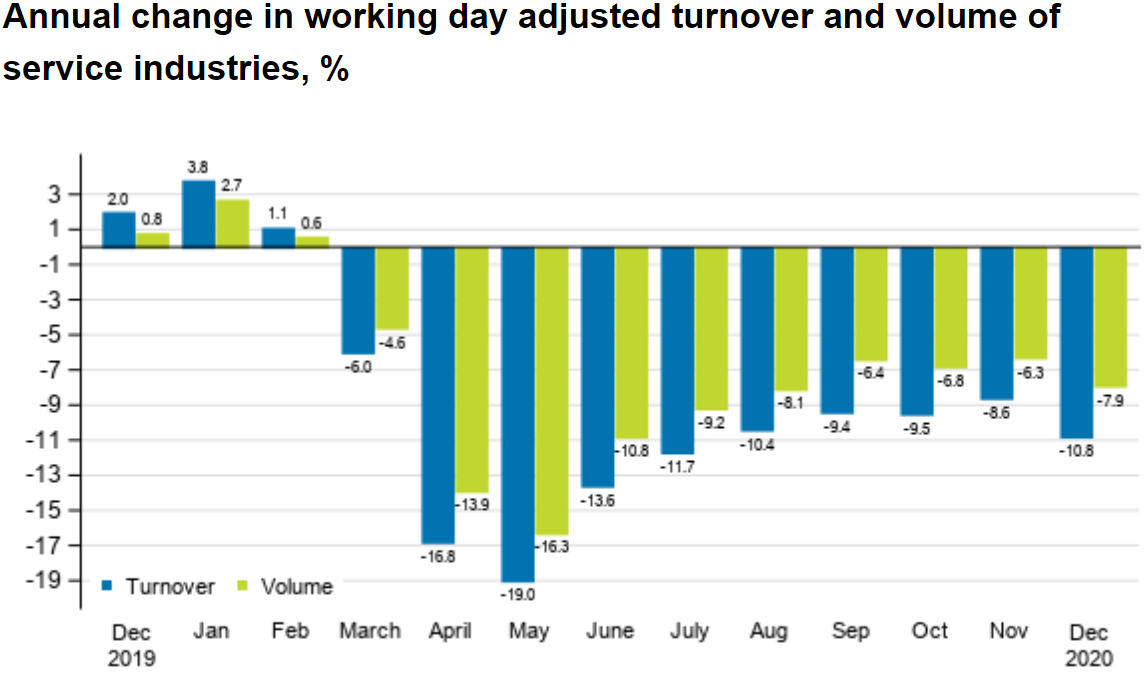 Source: Statistics Finland.
In this year's November, turnover went down by 8.6%, while volume contracted correspondingly by 6.3%. Services are here examined exclusive of trade, the statistical office says.
In December, turnover was weaker in accommodation and food service activities (-49%), arts, entertainment and recreation activities (-32.3%), transportation and storage (-20.8%), and administrative and support service activities (-11.0%).
Other service activities also fell clearly, as turnover there decreased by 9.7% year-on-year. In professional, scientific and technical activities, working day adjusted turnover fell by 1.7%.
The most favourable development in the main service industries was seen in information and communication, where turnover grew by 2.9% from one year earlier.
Turnover in industry decreased 7.7%
According to Statistics Finland, working day adjusted turnover in industry decreased in December by 7.7% year-on-year. Among main industries, turnover in the chemical industry decreased most, being 11.6% lower than one year earlier. Adjusted for working days, turnover decreased by 6.5% in January to December from the previous year. Seasonally adjusted turnover in industry fell in December by 2.1% compared with November.
After the chemical industry, turnover declined most in December in the forest industry, by 8.9% from one year earlier. In the metal industry, turnover decreased by 7.1% and in the food industry by 7%.
Output increased most in mining and quarrying, by 12% from the previous year. The turnover of the textile, clothing and leather industry increased by 2.4% and that of electricity, gas, steam and air conditioning supply by 1.8% compared to one year ago.
Turnover in the electrical and electronics industry grew by 1.1%.