September 12, 2021 at 11:43 AM
Finnish industrial output grows, but it does so with difficulty and unevenly between the different production sectors.
According to Statistics Finland's latest data, seasonally adjusted industrial output grew 1% in July from the month before and 5% compared with July 2020.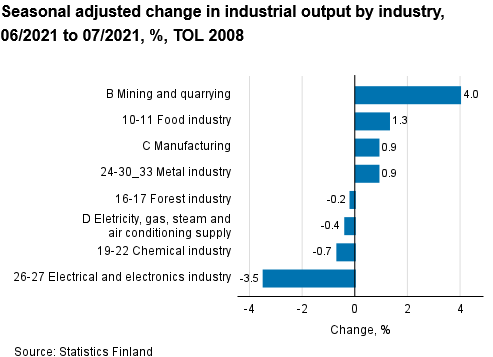 But not all sectors are gaining ground equally. In fact, some are losing.
Examined by main industry, output grew most in July in the industry of mining and quarrying, 4% from the previous month. In the food industry, output grew 1.3% and in the metal industry 0.9% compared to June.
But output fell from the month before in other important sectors like the electrical and electronics industry (-3.5%), the chemical industry (-0.7%) and the forest industry (-0.2%).
Ups and downs
Compared to one year ago, output increased again most in the forest industry, 10.6%. Output grew 10.4% in mining and quarrying, 7.5% in the metal industry and by 6.9% in the food industry compared to July 2020.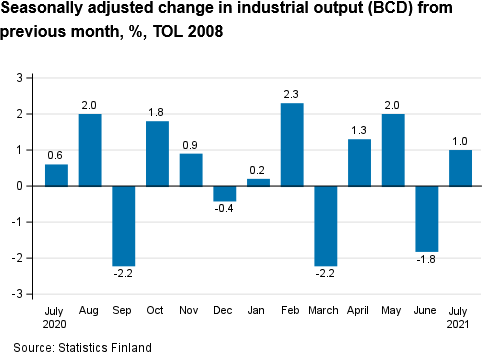 Output fell from the previous year in the industries of electricity, gas, steam and air conditioning supply (-4%), in the electrical and electronics industry (-3.1%) and in the chemical industry (-2.2%).