March 17, 2021 at 10:00 AM
Despite the country being immersed in the coronavirus crisis, the year 2021 begins with fewer bankruptcies of Finnish companies than the previous one.
According to Statistics Finland, 404 bankruptcies were filed in the period January–February 2021, which is 160 bankruptcies (28.4%) less than in the corresponding period a year earlier, when no external agent like the Covid-19 disease shook the economy.
The number of bankruptcies filed has been exceptionally low since June 2020. Due to the coronavirus crisis, filing for bankruptcy was restricted by a temporary amendment to the law from 1 May to 2020 to 31 January 2021. The change in the law has limited the creditor's ability to file for debtor bankruptcy.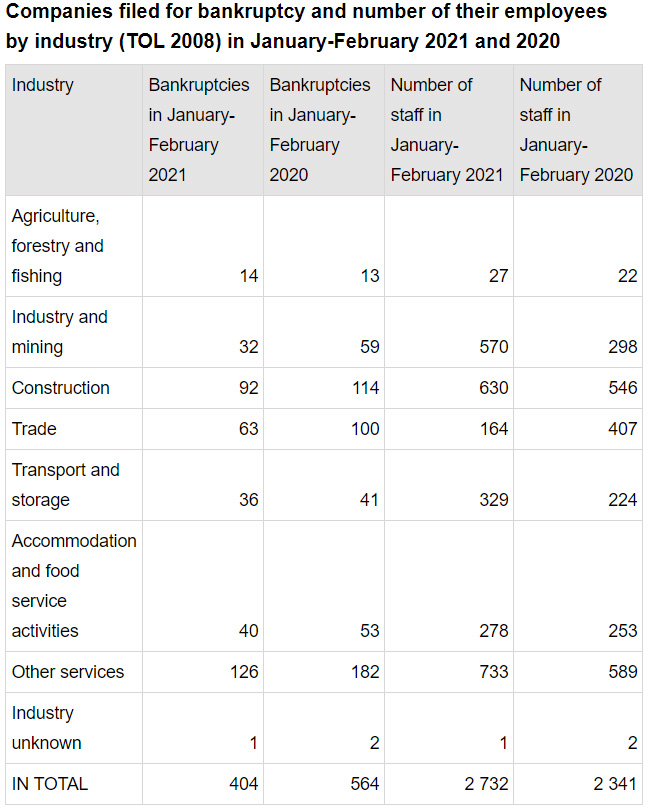 Source: Statistics Finland.
However, more workers have been affected by these exceptional measures than a year ago. The number of employees in companies filed for bankruptcy totaled 2,732, which is 391 (16.7%) more than in the previous year.
The number of bankruptcies initiated decreased in January-February in all main industries except for the forestry sector and the fisheries sector. In terms of number, the largest decrease in bankruptcies was in the other services sector (ICT, financial and insurance activities, real estate, professional, scientific, administrative activities...), where there were 56 (30.8%) fewer bankruptcies than in the previous year.
Largest decrease
In relative terms, the largest decrease in bankruptcies was in industry and mining, where bankruptcies decreased by 45.8% from the corresponding period of the previous year.
Bankruptcies initiated are companies, entities or natural persons filed for bankruptcy during a calendar year.
Bankruptcy does not always mean that a company or professional is "going bankrupt" in the true sense of the term. Bankruptcy litigation is a complex and multi-stage legal process in which the proceedings may be interrupted and business can be saved, for example after restructuring debt.