Finnish flag airline Finnair significantly increased its number of travelers in May, although the total passenger numbers remain very low due to travel restrictions imposed to curb the spread of the coronavirus.
According to the figures provided by the airline, 82,800 passengers flew with Finnair in May, which was 210.4% more than in May 2020.
To adequately assess the significance of this large increase, it must be taken into account that the impact of Covid-19 pandemic was clearly visible already a year ago as Finnair operated only a minimum network due to strict and extensive travel restrictions.
The number of passengers in May 2021 was 2.3% more than in the previous month (April).
The Covid-19 impact, including the exceptionally strict travel restrictions still affected all passenger traffic figures, especially in the North Atlantic and Asian figures, the company says.
Passenger numbers increased in Asian and North Atlantic traffic by 100% year-on-year, in European traffic by 179.2% and in domestic traffic by 239.6%.
65 daily flights
Finnair operated in May 65 daily flights (cargo-only included) on average which was 80.6% more than in May 2020 but 3.0% less than in April 2021.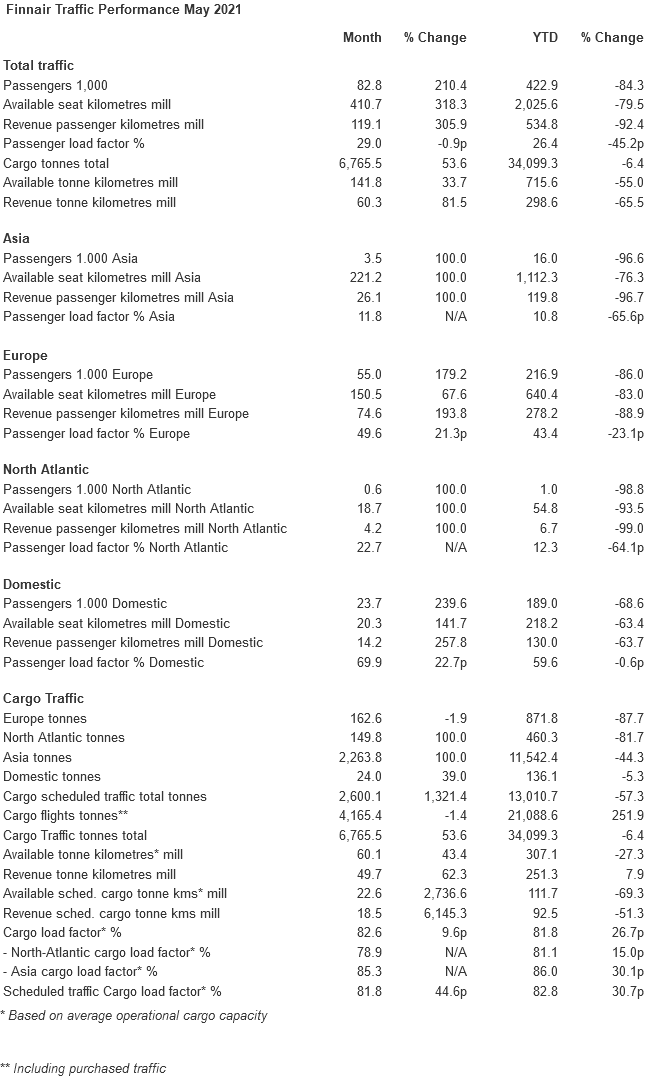 Source: Finnair.
In May, 94.9% of all Finnair flights arrived on schedule, the airline says.