Finland is among the four countries of the European Union (EU) where young people leave the family home at an earlier age.
In the year 2017, the last one for which there is data available on all the EU member states, youngsters left home earliest in Sweden (18,5 years), Luxembourg (20.1 years), Denmark (21.1 years) and Finland (22.0 years).
Among the reasons that explain the presence of three Nordic countries in the top of the ranking are: the range of educational and training opportunities offered, a high level of internal geographic mobility among young people and, above all, a generous system of social protection and public support for students, which allows them to emancipate even before they have achieved their degree.
The figures published by Eurostat also show that on average young people fly from the nest at the age of 26 in the EU member states. However, the European Statistical Office remarks that there are significant variations among the different countries: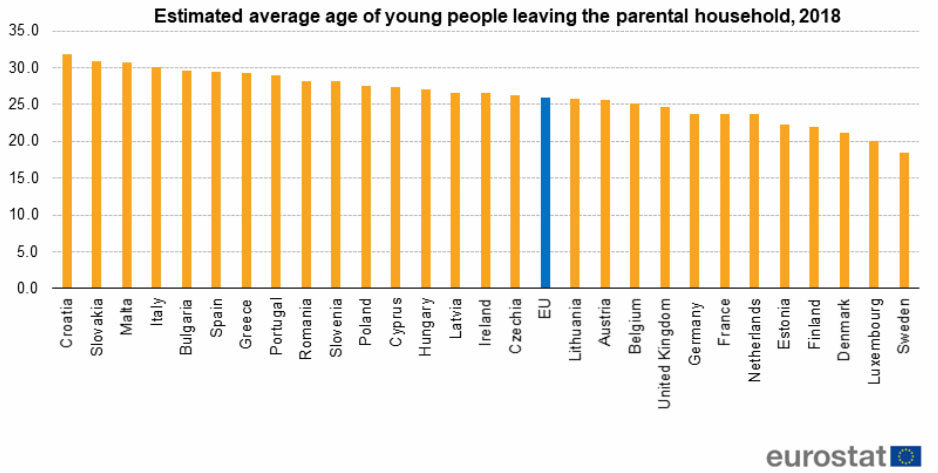 Thus, young people tend to leave their homes before the age of 25 also in Estonia (22.2 years), Germany, France and the Netherlands (23.7 years, in all three cases) and the United Kingdom (24.7 years). At the opposite end of this ranking remain the young adults of Croatia and Slovakia, who leave their family homes at an average age of 31.8 and 30.9 years, respectively.
They are followed on the scale, in this order, by the young people of Malta (30.7 years), Italy (30.1 years), Bulgaria (29.6 years), Spain (29.5 years), Greece (29.3 years) and Portugal (28.9 years).
Eurostat explains that across Europe, the rate of young people aged 25 to 34 and still living at the parental home also varies greatly among the different countries. From less than 10% in Denmark (3.2%), Finland (4.7%) and Sweden (6%) to well over than half in Croatia (59.7%), Slovakia (57.0%) and Greece (56.3%).
Men stay at home longer than women
The data analyzed also show variations according to gender: in general, European women are emancipated at earlier age than men. The numbers relating to the situation in 2017 confirm this trend: more than one third (35.3%) of the men aged 25 to 34 years were still living with their parents, compared with only one fifth (21.7%) of the women in the same age group.
Something similar happens in Finland: the percentage of those young adults living at the parental household is higher among Finnish men (6.1%) compared to Finnish women (2.7%), according to the figures provided by Eurostat.
However, there is one exception to this rule that women tend to leave the nest earlier: the exception is Sweden. In the neighboring country men tend to abandon their family house at the age of 18.4 years while women tend to do it at 18.5 years.
According to Eurostat, the higher differences between genders were registered in Romania (25.6 years for women, compared to 30.5 for men), Bulgaria (27.5 vs. 31.7), Croatia (30.0 vs 33.6), Greece (28.0 vs. 30.6), Hungary (25.8 vs. 28.3), Poland (26.3 vs. 28.8), Slovakia (29.7 vs. 32.1) and Lithuania (24.5 vs. 26.9).