June is well on its way to becoming the hottest month in history for Finland. The country, known abroad for its extremely cold temperatures, is on track to beat its previous record of 1961. Weather experts predict that this may be the hottest week of the year.
According to the Finnish Broadcasting Company (Yle) Finland has already endured 13 hot days (hellepäivää, in Finnish) this month, with temperatures above +25 degrees Celsius. Now, meteorologists' forecasts indicate that there will be 7 more hot days ahead.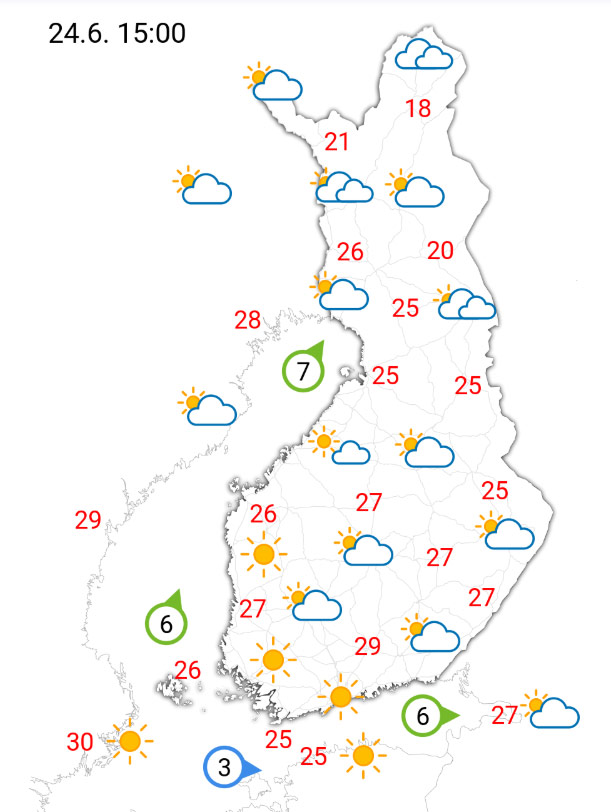 "Temperatures will keep rising throughout the coming week, it should reach 30 degrees by Wednesday, and 31 or 32 degrees over the weekend," Yle meteorologist Kerttu Kotakorpi predicted.
Higher
After a fairly mild winter, summer has started in Finland with temperatures averaging up to six degrees higher in the southern half of the country.
In the north, which is normally colder even during the summer season, average temperatures are about four degrees higher than usual at this time.
Temperatures this week are not expected to drop below twenty degrees even at night. For this reason, For this reason, Kotakorpi also warns of the possibility of humid nights and the risk of thunderstorms.
*Weather forecast map by Finnish Meteorological Institute (Ilmatieteen laitos).