August 10, 2021 at 11:19 AM
The value of new orders in manufacturing was 38.1% higher in June 2021 than twelve months earlier. During January to June, orders grew by 25.2% from the year before, according to Statistics Finland's data.
As in the previous months, the growth of new orders in manufacturing continued strong in June. Enterprises in all examined main industries received more orders than twelve months before.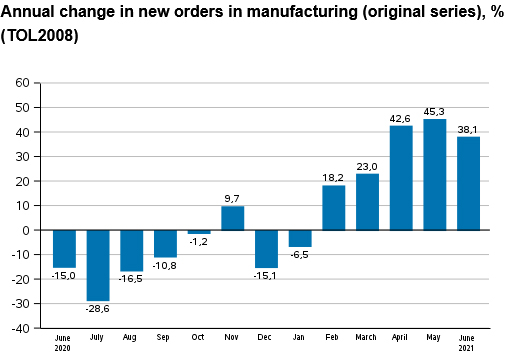 Source: Statistics Finland.
New orders grew most in the industry of manufacture of paper and paper products, where the value of orders was 44.7% up on the year before.
In the metal industry, orders increased by 37.8% year-on-year, and in the chemical industry by 29.8%.
When interpreting these statistics, it should be borne in mind that they typically show strong fluctuations by month.
Even new orders of substantial value are not examined over extended time periods but for the statistical reference month only.