September 15, 2021 at 9:10 PM
Finland's economic output growth eased in July, data from Statistics Finland showed on Wednesday.
Output of the national economy increased a working-day adjusted 5.5 per cent year-on-year in July, after a 9.1-per-cent rise in June, which was revised down from 9.7-per-cent growth.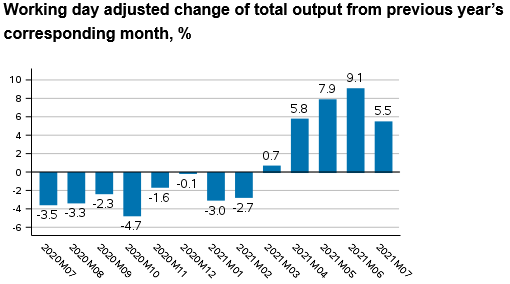 Source: Statistics Finland.
On a seasonally adjusted basis, output grew 0.2 per cent month-on-month in July, after a 1.14-per-cent rise in the prior month.
Data showed that primary production decreased about 6.0 per cent annually in July.
Meanwhile, secondary production rose by about 3.0 per cent and services production gained by around 7.0 per cent from a year ago.
Production
Primary production refers to agriculture, hunting, forestry and fishing. Secondary production includes manufacturing and construction.
Services comprise trade, hotel and restaurant activities, transport and business activities, as well as real estate, renting and research services, financial intermediation and insurance, and public services.