November 25, 2020 at 9:41 AM
Finland is gaining population in 2020 despite registering more deaths than births and a decline in migrant arrivals, which may be related to the coronavirus and travel restrictions.
According to Statistics Finland's preliminary population data, the country's population was 5,534,578 at the end of October, which is 9,286 people more than at the end of 2019.
The reason for the population increase was migration gain from abroad, since immigration exceeded migration by 15,589.
During January-October, 39,164 children were born, which is 779 higher than in the corresponding period of 2019. But the number of deaths was even higher, 45,609, which is 771 more year-on-year.
In all, the number of births was 6,445 lower than that of deaths.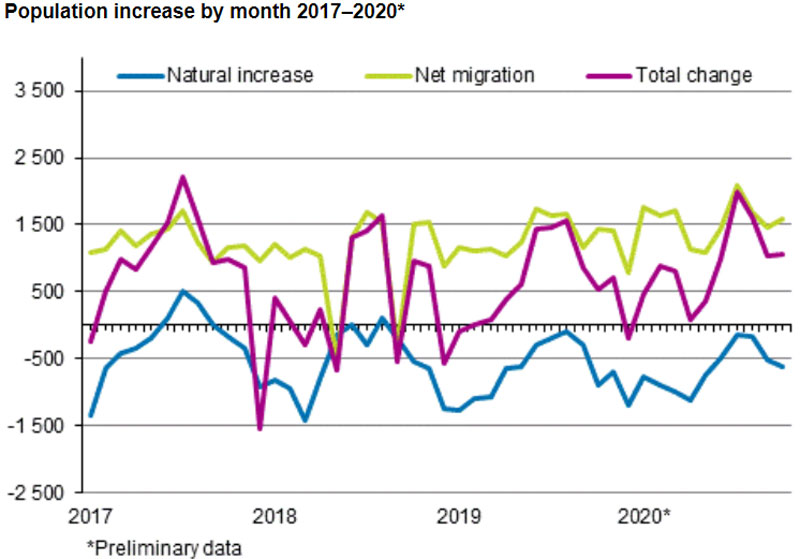 Source: Statistics Finland.
Immigration from abroad
According to the preliminary statistics for October, 25,526 people immigrated to Finland from abroad in January-October, while 9,937 left the country.
The number of immigrants was 2,603 lower and the number of emigrants 4,894 lower than in the corresponding period of the previous year. In all, 8,064 of the immigrants and 6,608 of the emigrants were Finnish citizens.
According to the preliminary data, the number of inter-municipal migrations totaled 253,379 during January-October. Compared with the corresponding period in 2019, the increase was 8,303 migrations according to the municipal division of 2020.