Employment and unemployment figures in Finland are starting to show signs of a turnaround, as the coronavirus epidemic recedes.
According to Statistics Finland's Labour Force Survey, the number of employed people was 138,000 higher in May than one year ago.
There were also 25,000 fewer unemployed people than in May 2020.
Finland had in May 2,580,000 employed people, which was 138,000 more year-on-year. There were 61,000 more employed men and 76,000 more employed women than a year earlier.
In May, the employment rate , that is, the proportion of the employed among persons aged 15 to 64, stood at 73%, having been 69.1% one year earlier.
Unemployment rate
In contrast, the unemployment rate stood at 9.6%, having been 10.9% in May 2020. There were 275,000 unemployed last month, 25,000 fewer than one year earlier.
From last year's May, men's unemployment rate fell by 0.3 percentage points to 10.8% and women's by 2.4 percentage points to 8.4%.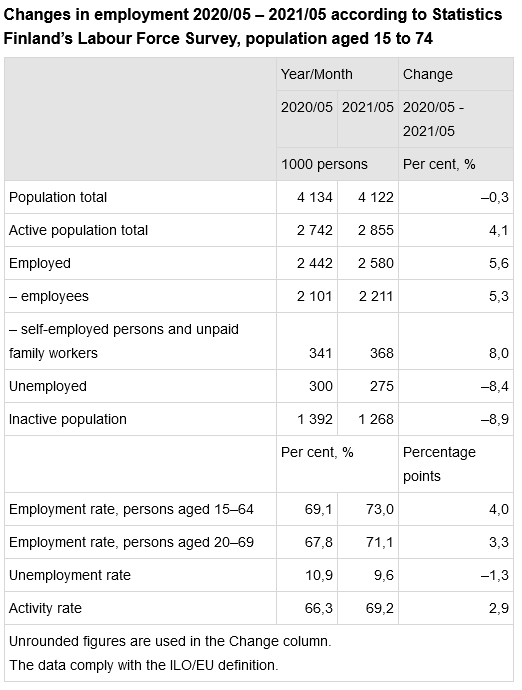 Source: Statistics Finland.
There were 1,268,000 persons aged 15 to 74 in the inactive population in May 2021, which was 124,000 fewer than one year earlier.