February 28, 2020 at 7:47 PM
The number of detentions of foreigners by the Finnish police greatly decreased last year.
A total of 1,297 detentions of foreigners were recorded in 2019, which is a 16.5% lower than in the year before (1,554), according to Statistics Finland's data.
Detention of foreigners is a different police measure from apprehension, arrest (both carried out also by the police) or remand/pretrial detention (which is decided by a court of law). This special measure was introduced at the beginning of 2016 as a coercive measure and it only applies to foreign citizens.
The most common reason for the detention of a foreigner was that the person would hinder the preparation and enforcement of decision-making concerning him or her by hiding or running away. So far this was the basis for around 2,400 cases.
Another common reason for the detention was that a foreigner was suspected of a crime and the detention was necessary to ensure the preparation or enforcement of the decision to deport him/her from the country. This reason was used around 1,800 times.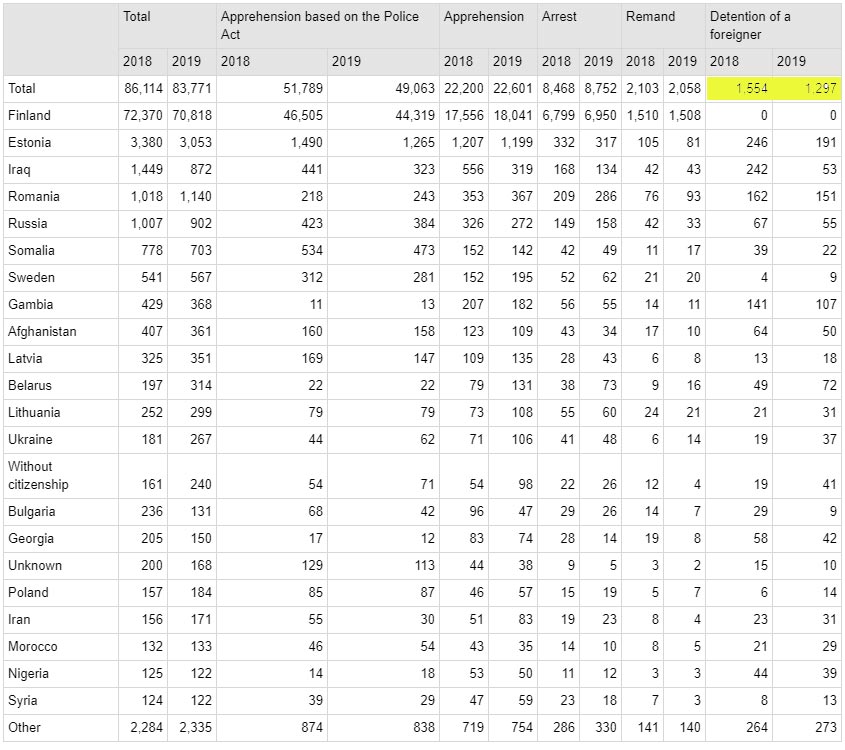 Source: Statistics Finland.
Statistics Finland emphasizes that one coercive measure can contain several grounds, so the number of grounds is higher than the number of actual coercive measures. Altogether, 8,100 grounds were used in 1,300 detentions of foreigners last year.
The detention of a foreigner is not necessarily criminally based. In Finland, "a foreigner can be detained without suspicion of a crime," Statistics Finland stressed.
Arrests, remands and travel bans
In 2019, a total of 22,601 apprehensions were made, which is 400 cases (1.8%) more than in the year before.
The total number of arrests was 8,752 (+3.4%) . The number of remands was 2,058, which is 2.1% less than in 2018. Altogether, 570 travel bans were enforced, which is 2.9% more than in 2018.
A total of 49,063 intoxicated persons were taken into custody in 2019. This is 2,700 cases (5.3%) fewer than in 2018.
Taking intoxicated persons into custody is a coercive measure based on the Police Act, where the person is usually not suspected of an offence, but the coercive measure is used to ensure their safety or their environment's.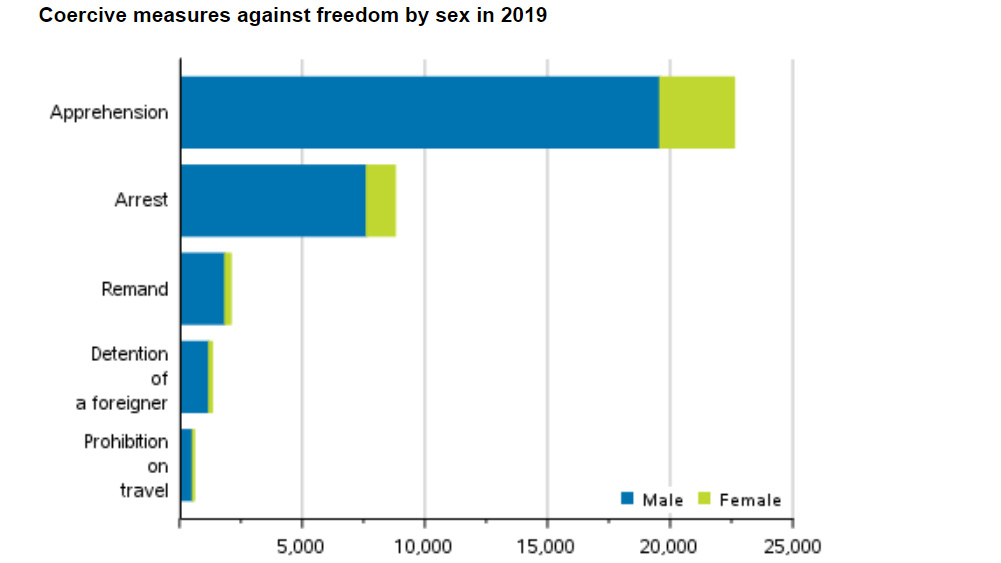 Source: Statistics Finland
In total, the police, customs and border guard used coercive measures 194,000 times in 2019. A majority of coercive measures against freedom were applied to Finnish citizens.
Other new coercive measures
At the beginning of 2014, new coercive measures came into force: search of data contained in a device and search of premises. In 2019, altogether 6,700 searches of data contained in a device were performed, which is 5.6% more than in the previous year.
A search of premises refers to a search conducted elsewhere than in a public place but not a domicile. Searches of premises numbered 7,800 (this was 7.4% more), most of which were carried out to find an object or property to be confiscated or to clarify an offence.