March 15, 2021 at 10:02 AM
The Finnish economy does not escape, like the rest of the European ones, the ravages caused by the coronavirus crisis.
In the year 2020, the country's Gross Domestic Product (GDP) contracted by 2.8%, according to the latest figures from the national accounts published by Statistics Finland. This is the biggest fall in GDP since 2009, when the financial crisis that followed the collapse of Lehmann Brothers shook the global economy.
The difficult economic situation is not only reflected in the decline in the annual production of goods and services. Exports were also constantly below the level of the previous year. At the same time, the public deficit skyrocketed, wages and salaries fell in nominal terms, consumption expenditure dropped and households increased their level of savings, in anticipation of the crisis continuing.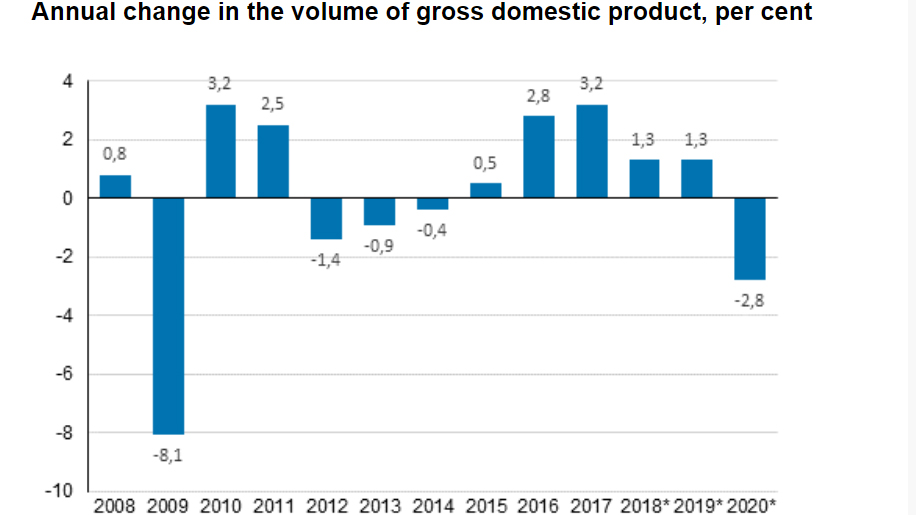 Source: Statistics Finland.
The financial position, or net lending, of general government showed a deficit of 12.9 billion euros, while in the previous year the deficit was 2.4 billion. This is 437.5% more than in 2019.
In 2020, the deficit was 5.4% relative to GDP.
This deficit was boosted by expenditure related to the coronavirus pandemic and the decrease in the accrual of tax revenue and social security contributions, the main individual items of which were reductions in corporation taxes and employment pension contributions.
Statistics Finland will publish the deficit and debt data to be reported to the European Commission on 21 April.
Households
Wages and salaries received by households fell in nominal terms by 0.4% to 92.8 billion euros. In the previous year, wages and salaries went up by 3.5%.
Received social benefits other than social transfers in kind increased by 5.4% to 47.6 billion. This was particularly due to the 2.6% growth in employment pensions paid to 29.4 billion and the 38% growth in unemployment benefits paid to 5 billion.
Households' saving rose to 6.9 billion euros (1.0 billion in 2019). This was affected by the 0.5% growth in disposable income to 133.1 billion euros and by the 4.6% decrease in consumption expenditure to 115.2 billion euros.
Saving grew faster than disposable income as consumption expenditure fell clearly. As a result, households' saving rate grew to 5.7% in 2020. According to preliminary data, households' indebtedness rate rose to 133% in 2020 having been 129 per cent in 2019.