Finnish consumer confidence remained positive in May, which means that the population is optimistic about the future of the economy, although slightly less than last month.
According to Statistics Finland, the Consumer Confidence Indicator (CCI) stood at 2.7, having been 3.8% in April and -3 in March.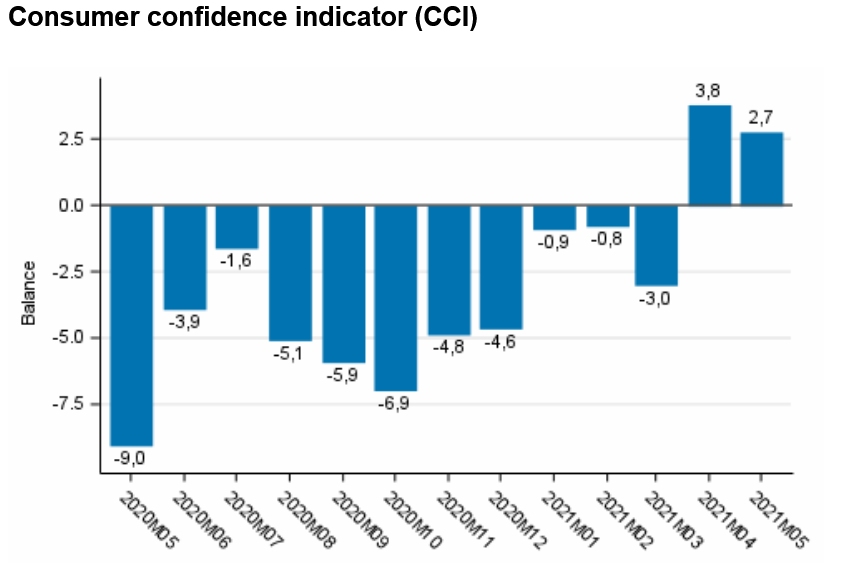 Source: Statistics Finland.
A year ago, in May 2020, it received the value of -9, which shows the general pessimism that took over the economy in the first spring of the Covid-19 pandemic. Compared to last year's May, all components of the CCI were now clearly on a better level.
To understand the current mental state of Finnish consumers, it is necessary to explain that the CCI value and each of its four components are calculated in a scale from -100 to +100. Therefore any negative value indicates pessimism. The higher the balance figure, the brighter the view of the economy, and the lower, the bleaker.
Although it can be said that the positive expectations remained in May, of the four components of the CCI, only expectations regarding Finland's economy improved from April. Expectations concerning Finnish consumers' own economy remained almost unchanged. The other components weakened in a month.
Unemployment
Consumers' expectations concerning the development of the general unemployment situation in Finland also became brighter. This was also more or less the case for views of the personal threat of unemployment by the employed and self-employed people.
Consumers considered their own financial situation to be still excellent in May. The time was regarded very favourable for saving, also good for taking out a loan and moderate for buying durable goods. Saving possibilities were expected to be very high in the coming months.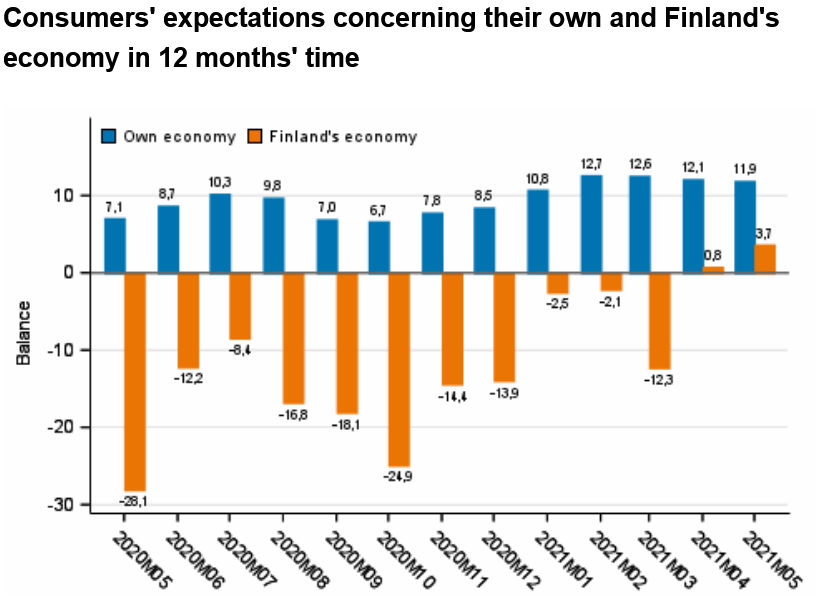 Source: Statistics Finland.
Confidence in the economy was by far strongest in Greater Helsinki (CCI 10.0) and weakest in Western and Eastern Finland (-0.7 and -0.6). Among population groups, upper-level salaried employees were clearly most optimistic (11.5).
Pensioners (-3.3) and unemployed persons (-3.1) had the most pessimistic views concerning economic development.
The data is based on the Statistics Finland Consumer Confidence Survey, which was answered by 990 people residing in Finland between 1 and 19 May.