November 12, 2019 at 6:20 PM
Permanent summer time -not to confuse with summer weather- is what new a citizens' initiative calls for in Finland. The promoters of the proposal have managed to gather 53,971 signatures of Finns that want to adopt summer daylight saving time as permanent from 2021.
According to the Finnish Parliament's website, the initiative was received on 11 November by Tuula Kulovesi, legislative director of the Parliament and Timo Tuovinen, deputy secretary general. The signature collection was initiated by Ville Niemelä.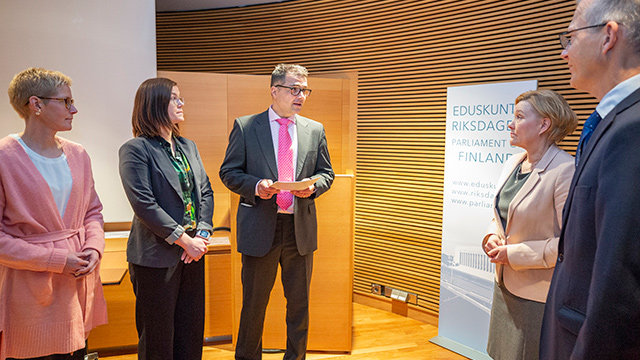 The initiative receivers and promoters. Photo: Eduskunta/Finnish Parliament.
In the explanatory memorandum, the proposal says current autumn and winter time "reduces the daylight hours after school and working" compared to what happens in summer time. "When we are permanently in summer time, we will have one hour more for safe exercise, for outdoor play, jogging, etc...", it estates.
In Finland, as in the rest of the European Union, clock change takes place twice a year for a better use of natural daylight hours and energy savings. However, scientific studies have questioned its effectiveness and highlighted the disorders it generates for people.
For this reason, the EU approved to eliminate clock changes in 2021. Before that, Member States must inform, at the latest in April 2020, in which time zone they wish to remain.