March 31, 2020 at 10:34 PM
The coronavirus epidemic (koronavirus, in Finnish) has forced Finnish schools to close and the vast majority of schoolchildren have to stay home and continue their studies through distance learning. However, there is a danger that this measure will increase inequality among children, since distance learning is technology-based, and not all children have equal access to computer equipment.
The Finnish National Agency for Education (Opetushallitus) says that, according to rough estimates, "tens of thousands of elementary school students may be currently without a computer" in Finland. "Nobody should be left behind in their studies due to lack of computer," the education authority says.
For that reason, Finnish authorities have launched the campaign Kaikille kone (Machine for all) which challenges companies to donate to Finnish students the computers and laptops which they do not need anymore. The campaign is supported by several technologies firms and social actors, and is patronized by President Sauli Niinistö.
Opetushallitus explains in its website that the campaign aims to collect thousands of functional computers for students in grades 1-9 of elementary education. Some of these will be reserved specifically for children from low-income families.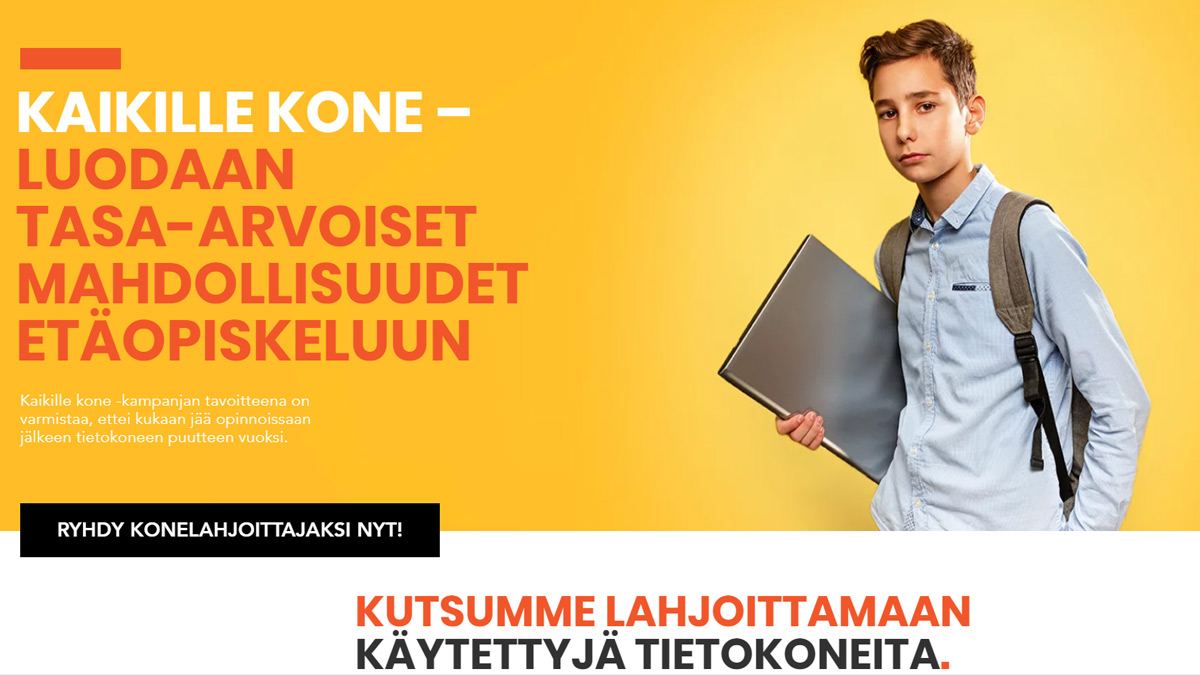 Image from the Kaikille kone campaign website.
Security checks and internet-equipped
Donated devices will be first inspected for security by two of the tech companies involved in the campaign. Later, they will be equipped with broadband subscriptions and finally delivered to schools, who will distribute them among the schoolchildren according to their needs.
"Some distance learning tools and practices have been faster to implement, while others take longer. Finnish education professionals have done good and significant work in a very challenging situation. In order for learning to continue smoothly, students need a device to study," says Olli-Pekka Heinonen, Director General of the National Board of Education .
The Kaikille kone campaign originally started in 2015 with the goal of donating computers to students with difficulties to access technology equipment. In the current situation caused by the Covid-19 pandemic, the campaign has expanded to include 3 Step IT Oy, ALSO Finland, Atea, Avalon, CGI, DB Schenker, Elisa, Domestic Aid, Association of Municipalities, Microsoft Oy, National Board of Education, the Rubber Tires Association and Posti.
Donations can be made through the campaign's website HERE