November 15, 2019 at 2:52 PM
In Finland there were 48,500 open job vacancies in the third quarter of 2019, more than one year before when the figure was 46,900. Most of those open positions (89%) were in private enterprises and around 23% were fixed term positions. These figures describe the situation on the first day of September.
The data comes from the latest Job Vancancy Survey published by Statistics Finland. Compared with the corresponding period of the previous year, open job vacancies increased in establishments with at least 10 employees and decreased in smaller establishments.
Examined by industry, job vacancies decreased in the group of manufacturing, mining and quarrying and other industry and grew or remained unchanged in most other industries. Open job vacancies increased in the major region of Helsinki-Uusimaa from one year earlier.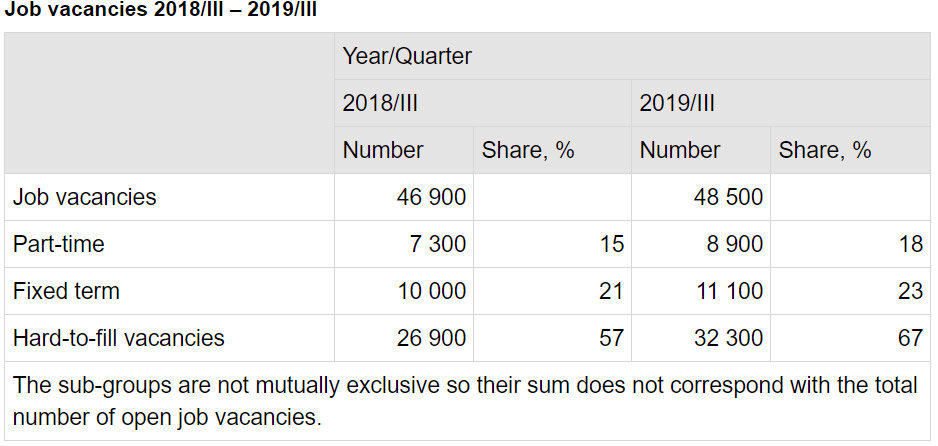 Source: Statistics Finland.
Part-time jobs
In the third quarter of 2019, in all, 39,500 (or 81%) of the job vacancies were in establishments owned by private enterprises, while one year earlier the corresponding share was 78%. The share of fixed-term positions in all open job vacancies was 23%, which is close to the level seen last year.
Of all open vacancies, 18% were part-time jobs. Employers estimated that 67% of the open job vacancies were hard-to-fill, while the corresponding share one year earlier was 57%. For example, in construction and wholesale and retail trade had many jobs considered hard to fill, according to Statistics Finland.