The number of abortions increased in Finland after several years of decline.
According to the latest statistics published by the National Institute for Health and Welfare (THL, in its Finnish acronym), around 8,700 terminations of pregnancy were made across the country in 2019, which is slightly more (56 more or 0.6% more) than in 2018.
The current incidence of abortion cases in Finland is 7.7 cases per 1,000 women of childbearing age (between 15 and 49 years).
Despite the increase in 2019, the number of terminations of pregnancy "was still significantly lower than in the 1990s and 2000s," the health agency says.
"It is still too early to say whether the good development of the 2010s stopped in 2019 or whether it is just an annual variation," emphasizes Anna Heino, a specialist at THL.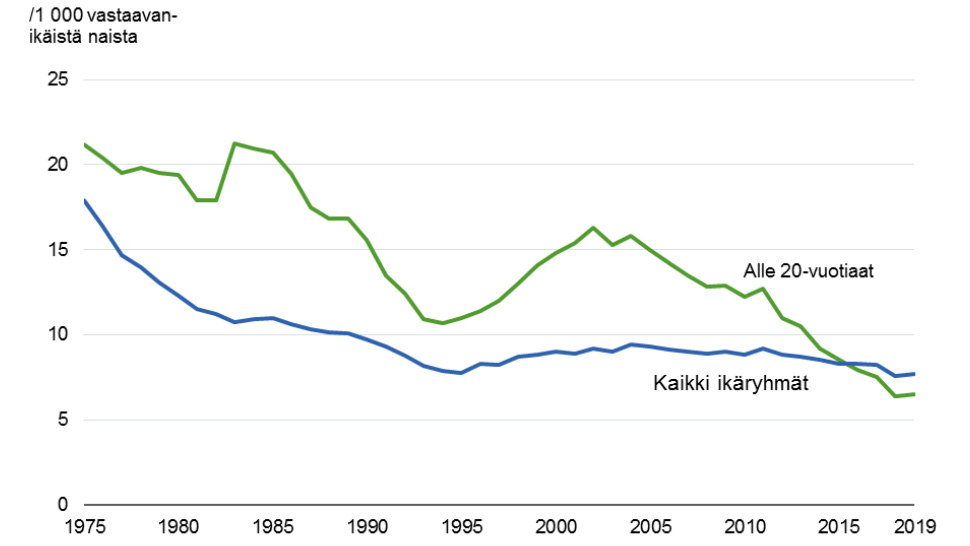 Abortions per 1,000 women 1975-2019. Source: THL.
The highest number of abortions is still found among young women, in the 20-24 age group (13.6 per 1,000). According to THL, this incidence remained unchanged in 2019 compared to the previous year.
More than 3,000 interruptions (35%) were made on women under the age of 25.
More than one abortion
About half (51.2%) of the women who aborted in 2019 had given birth at least once before. And more than one in three abortions (37%) were made on women who already had a termination of pregnancy before.
Of the women whose pregnancies were terminated, 9.2% had given birth within the past two years and 7.8% had had a previous abortion in 2018–2019. Compared to the previous year, both shares decreased slightly in 2019, says THL.
THL and the Ministry of Social Affairs and Health have long recommended that municipalities provide free contraception to young people. However, it is estimated that only one-fifth of municipalities have done so.
"Providing free contraception to young people has been proven to be both an effective and cost-effective way to reduce the number of terminations," says Heino.