February 25, 2020 at 9:35 PM
Despite being one of the best countries to raise children, Finland still has a fertility problem. In January, the number of births was again much lower than the number of births.
To this problem it must be added that currently the number of Finns who leave the country is greater than that of those who return. If Finland has not yet begun to lose population it is due to migration gain from abroad, according to the latest figures published by Statistics Finland.
During January, 3,882 children were born in in Finland, which is 15 more than in the same month in 2019. However, the number of deaths was 4,553. The number of births was 671 lower than that of deaths.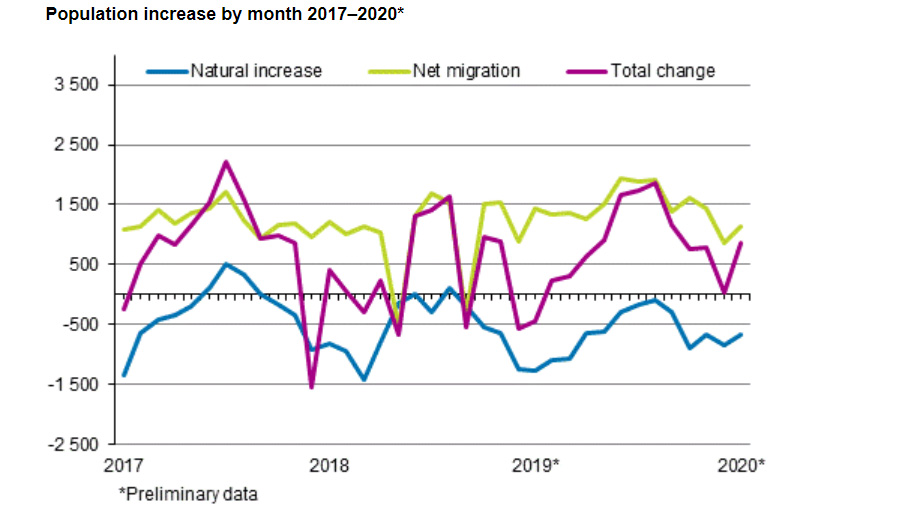 Source: Statistics Finland.
Population figures
Finland's population was 5,528,442 at the end of January. This means the country's population increased slightly by 869 persons last month. And the reason for the increase was, according to Statistics Finland, migration gain from abroad, since immigration exceeded emigration by 1,127.
Preliminary figures show in January 2,231 people immigrated to Finland from abroad and 1,104 persons emigrated from Finland. Both numbers of immigrants and emigrants were lower than in the January 2019.
In all, 636 of the immigrants and 739 of the emigrants were Finish citizens. The number of Finns who left their country exceeded 103 to those who returned.
And this is not a statistical curiosity limited to January 2020, but a long-standing trend. During the whole of 2019, 8,564 of the immigrants and 9,865 of the emigrants were Finnish citizens. That is to say, there were 1,301 Finns who left their country more than those who returned.