June 27, 2021 at 10:59 AM
According to Statistics Finland data on indebtedness, 1.46 million Finnish households (53% of the total) owed money to banks or financial institutions in 2020.
The total amount of these loans was 131,600 million euros, 3.4% more than the previous year.
Of that amount, around 92,200 million euros corresponded to loans for housing, 8,700 million were loans for business purposes and 30,700 million were other types of debts (loans for consumption, purchases of durable goods or study loans).
These other debts were precisely the part that grew the most during the past year, 7.6% compared to 2019. Loans for housing increased 2.6% year-on-year and loans taken out for business purposes decreased 2.3%.
More than a fifth of the indebted households owed up to 10,000 euros and half of them owed up to 50,000 euros.
180,100 households (7% of all Finnish households and 12% of those in debt) owed at least 200,000 euros in 2020. There were another 68,200 households (2% of the total and 5% of the indebted) in debt for more than 300,000 euros.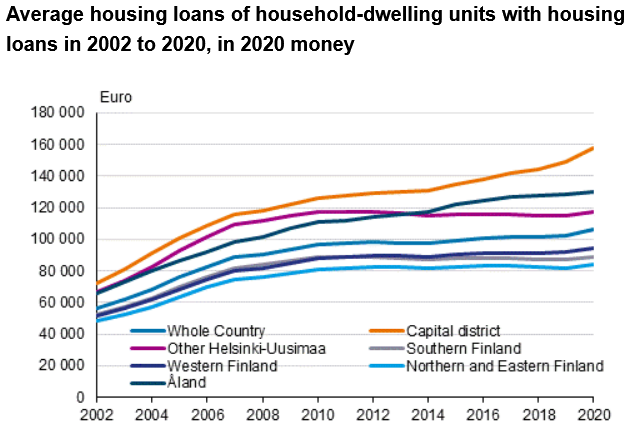 Source: Statistics Finland.
Housing loans
In 2020, a total of 868,900 Finnish households had housing loans (31% of all).
Housing loans were common for household-dwelling units that had children. According to Statistics Finland's figures, 71% of the households with two adults and children had housing loans in 2020.
The average housing loan was 143,110 euros for the whole country, but in the Greater Helsinki area it was 157,280 euros.
Finnish households paid 1,600 million euros in interests in 2020, which in real terms was 1.4% less than in the year before.