The number of foreigner citizens suspected of having committed crimes against the Finnish criminal code was 33,800 in 2020. This is almost 500 fewer people (-1.5%) than in 2019. On the contrary, the number of suspected crimes of Finnish origin increased by 39,900 people (15% more).
The data correspond to crime figures released by Statistics Finland. The statistical office records suspect data only on solved crimes.
Of the foreign suspects, 62.6% had a permanent residence address in Finland, up from 55.1% in 2019. The rest are tourists, asylum seekers or people who are temporarily in the country and without a fixed residence in Finland.
In mainland Finland, the percentage of foreigners among suspects was highest in the Uusimaa region (18.1%). The next highest proportion of foreigners was found in South Karelia (12.6 percent), and Ostrobothnia (10%).
The Finnish Statistical Office registers as 'Finns' those who have dual citizenship when one of them is Finnish citizenship, regardless of their place of birth.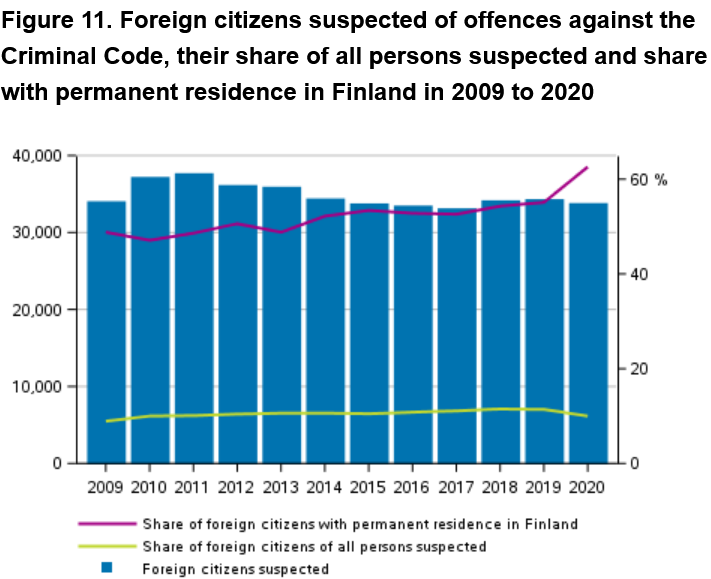 Source: Statistics Finland.
Estonians, the largest group
In 2020, the biggest group of foreigners suspected of offences against the criminal code were Estonian. They numbered 9,500, which is 600 more than in 2019. Just over one-half of them resided permanently in Finland.
Other countries, from where over 1,000 citizens were suspects, were Iraq (3,500), Russia (2,800), Sweden (1,800), Romania (1,500) and Somalia (1,200). For example, compared with the year before, the number of Iraqis increased by 11.1% and that of Russians decreased by 38.2%.
The number of Swedes went down by 1% and that of Romanians by 4.1%.
Of Romanians, 31.6% were permanently resident in Finland. Of Russian suspects, 53.3% had a permanent place of residence in Finland.
Of Somalis, 93.9% and 74.8% of Iraqis resided permanently in Finland.
In all, 89% of foreign suspects were men. Of Finnish suspects, 79% were men.
Foreigners were also slightly older than Finnish suspects. Of foreign suspects, around 11% were aged under 21 and around 40% were aged under 30.
Of Finnish suspects, 19% are aged under 21 and 47% under 30.