March 10, 2020 at 3:23 PM
Finland's good reputation as an ideal destination for higher education is increasing. And not only because of the efficiency of its national system, but also as a pole of attraction for foreign students seeking programs in English.
According to the latest numbers published by the Finnish National Agency for Education (OPH, in its Finnish acronym), nearly 25 000 applicants from abroad applied to higher education programmes in English in 2019. This is 17% more than the year before and 54% more than in 2016.
OPH considers these results as a positive development in the light of the tuition fees for non-EU/EEA students introduced in 2017. "In 2017 the number of applicants decreased a little, but have since grown remarkably," the education authority says.
More foreign applicants seek admission to universities rather than universities of applied sciences (UAS). Programmes in English at universities attracted 14,500 foreign applicants in 2019 compared to 11,000 to UAS. Both figures can sometimes comprise the same applicant, as they can apply to both sectors.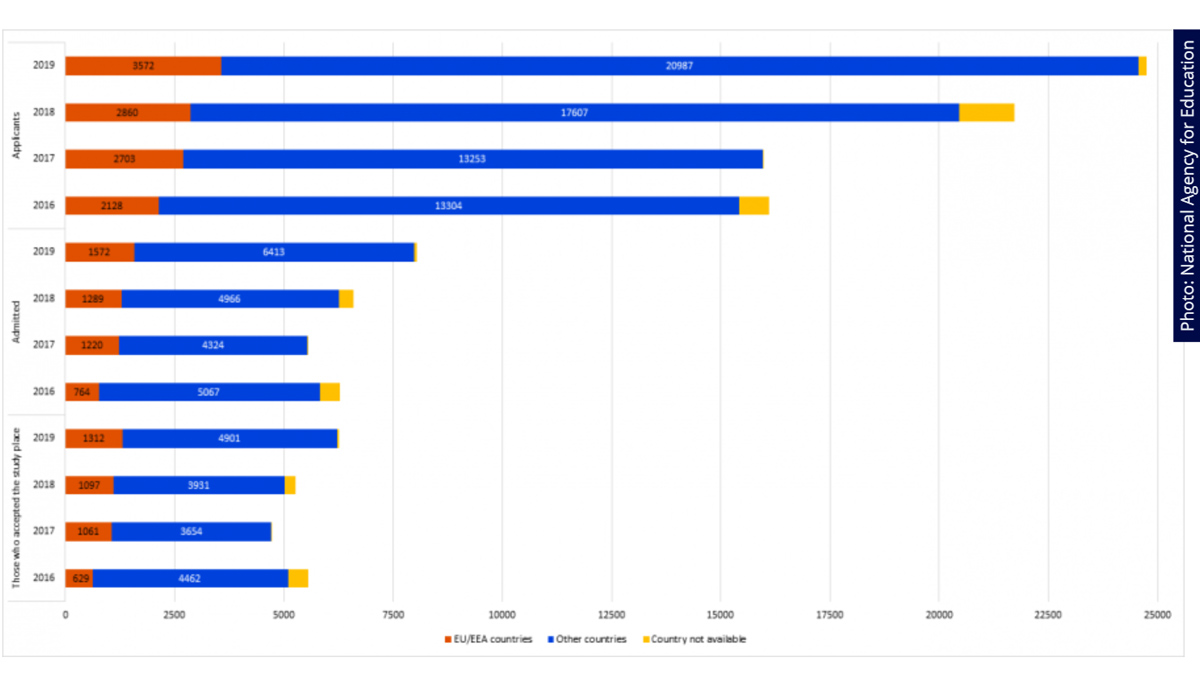 Most wanted programmes
Most foreign applicants to UAS seek admission to the programmes in business, administration and law. These subjects also have the broader offer in English. The most popular fields in universities are business, administration, law, technology, ICT and natural sciences.
The number of foreign students admitted has also increased. In 2019, 32% of foreign students who applied to higher education were admitted. Some 78% of these accepted the study place offered.
The admission rate is similar to both universities and UAS (32% and 31%, respectively). The difference is, however, that more applicants to UAS accept the study place they are offered (UAS 87%, universities 70%).
Most applicants from outside the EU
Nationals from the EU or European Economic Area (EEA) accounted for just 14% of the applicants to higher education programmes in English.
Outside the EU and the EEA, most applications come from Bangladesh, Nigeria, Pakistan, India, Nepal, Ghana and Vietnam.
The number of applicants from these countries has grown notably in the last three years except for applicants from Vietnam, whose number decreased in 2017.
In 2019, the proportion of foreign applicants of all applicants to universities was 16%, compared to 12% to UAS.
These applicants are slightly more successful in being admitted, OPH says. Of all those admitted to universities 22% were from the EU or EEA. The corresponding figure for UAS was 17%.