August 29, 2021 at 1:25 PM
Finnish consumer sentiment remained very strong in August, especially regarding consumers' views of their own economy.
According to Statistics Finland, the consumer confidence indicator (CCI) stood at 4% in August, whereas in July it was 4.4 and in June 4.6.
Of the four components of the CCI, consumers' views of their own economy at present were in August brightest in the entire measuring history, 1995 to 2021. Expectations of their own economy in 12 months were also very optimistic.
In addition, consumers had plenty of intentions to spend money on durable goods in the coming months. Views of the future development of Finland's economy were also good in August.
Compared to July, expectations concerning one's own economy improved in August. By contrast, expectations about Finland's economy weakened in a month.Views of their own economy at present and intentions to spend money remained more or less unchanged in August.
Compared with August last year, all four components of the CCI were now even clearly stronger.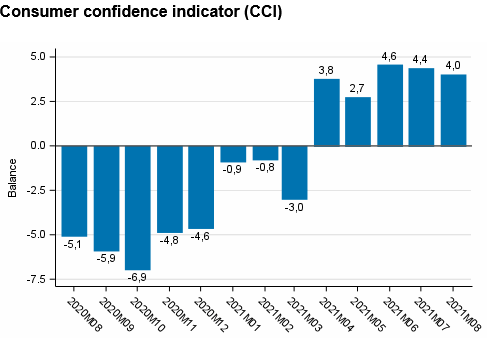 Source: Statistics Finland.
Unemployment threat
Consumers' expectations concerning the development of the general unemployment situation in Finland weakened slightly in August but still remained bright.
As in previous months, consumers regarded their own financial situation to be excellent in August. The time was considered very favourable for saving, also favourable for raising a loan and reasonable for buying durable goods. Saving possibilities were expected to be still high in the coming months.
As in the past few months, considerably many intended to take out a loan within one year in August. Similarly, consumers still had plenty of plans to buy a dwelling or a car.
Examined by region, consumer confidence was strongest in Greater Helsinki area and weakest in Eastern Finland. Among population groups, upper-level salaried employees were most optimistic (11.9), while pensioners had clearly the gloomiest expectations concerning economic development (-6.7).
The data are based on Statistics Finland's Consumer Confidence Survey, to which 971 persons resident in Finland responded between 1 and 19 August.