August 28, 2020 at 10:11 AM
The confidence of Finnish consumers in the economy further deteriorated in August, amid the second wave of coronavirus that hit the world and the tightening of some restrictions due to the epidemic.
The consumer confidence indicator (CCI) produced by Statistics Finland stood at -5.1 in August, whereas in July it was -1.6 and in June -3.9. The long-term average for the CCI is -1.8. Last year in August, the consumer confidence indicator received the value -4.5.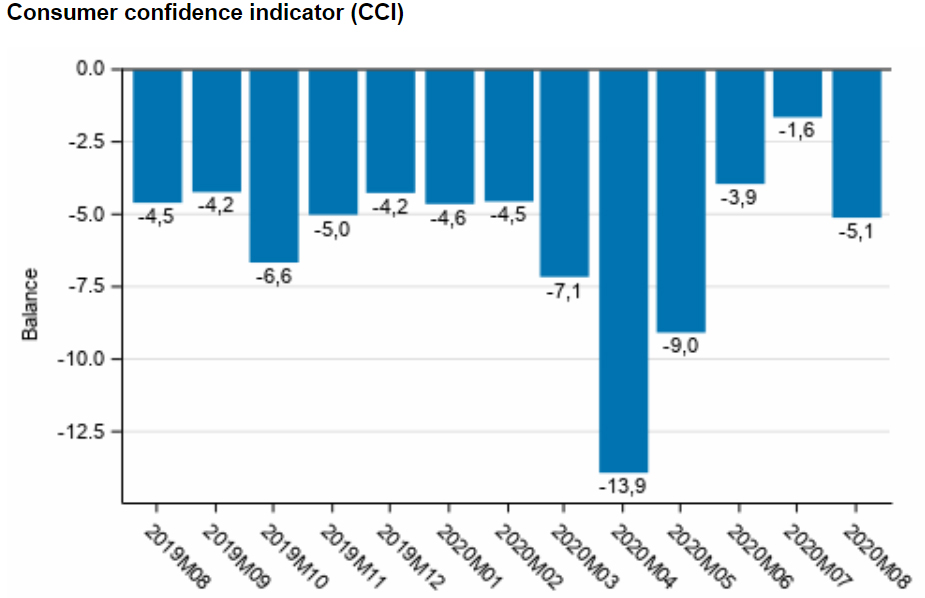 Source: Statistics Finland.
All four components of the consumer confidence indicator weakened in August when compared to July. Compared to last year's August, expectations concerning one's own economy were, however, slightly better, and intentions to spend money were roughly at the same level.
In contrast, views on consumers' own economy at present and expectations concerning Finland's economic development were worse in August than one year ago.
Employment
Consumers' expectations concerning the development of the general employment situation weakened in August to an even gloomier level. The personal threat of unemployment among employed consumers, that is, wage and salary earners and self-employed persons, decreased slightly from the previous month but views still remained pessimistic.
Consumers' estimates of the future growth rate of consumer prices rose in August.
In August, consumers considered their own financial situation to be still excellent. However, the time was regarded as poor for buying durable goods and raising a loan. As regards saving, the time was viewed as neutral.
Estimates weakened clearly compared to July, especially concerning buying of durable goods. More consumers than usual were planning to take out a loan in August, and many were still going to buy a dwelling in the next 12 months. Basic home repairs and buying of a passenger car were also being planned.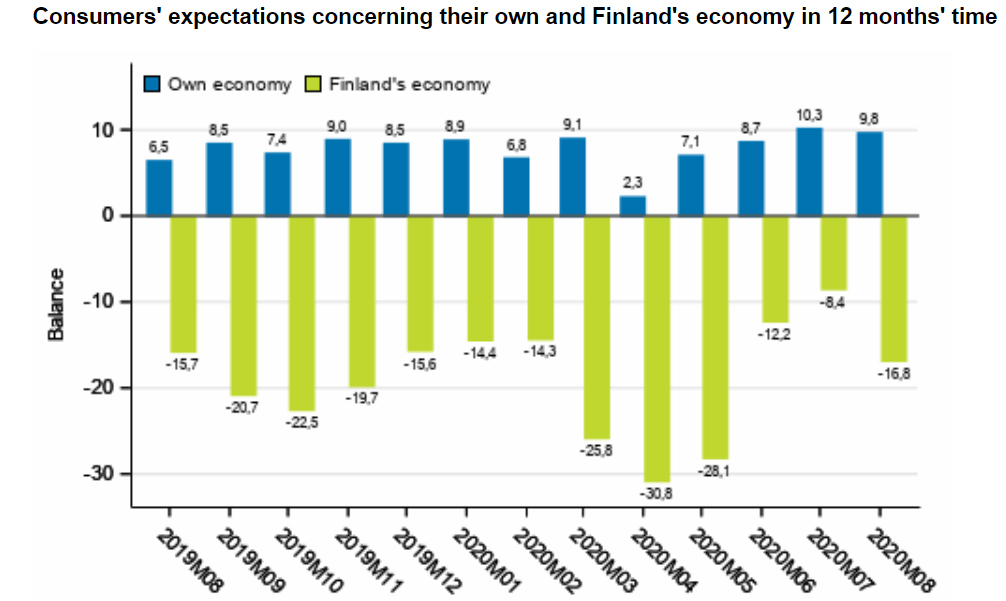 Source: Statistics Finland.
In August, consumer confidence in the economy was strongest in Greater Helsinki (-2.7) and weakest in Eastern Finland (-9.6).
Of population groups, students were clearly most optimistic (3.8). Self-employed persons had the most pessimistic views concerning economic development (-14.0).
The data are based on Statistics Finland's Consumer Confidence Survey, to which 1,083 persons resident in Finland responded between 1 and 19 August.