April 6, 2020 at 10:27 AM
The automotive sector in Finland appears to have withstood in March the first blows of the economic crisis caused by the coronavirus (koronavirus, in Finnish) epidemic.
Despite the recommendations to stay home and the restrictions on movement imposed by the Government, in March 2020 a total of 15,853 new motor vehicles were registered, of which 10,738 were automobiles. First registrations increased by 1.8% from the corresponding month of the previous year, according to Statistics Finland's data.
Private car sales also held up the rate. In March, the number of new passenger cars registered was 9,194, which was just 0.9% down from the year before. The share of new diesel-driven passenger cars was 15.8%.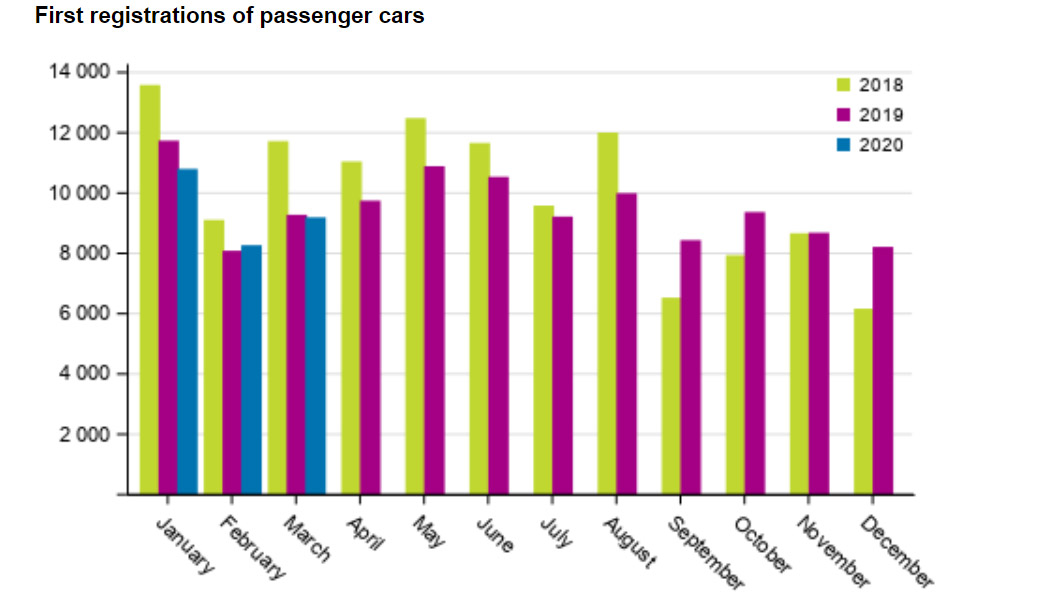 Source: Statistics Finland.
In the January to March period of 2020 a total of 45,194 vehicles were first registered. Compared to the year before, there was a decrease of 4%.
The number of passenger cars first registered in the January to March period was 28,266, which is 2.9% down from the year before.
The most common passenger car makes first registered in the January to March period were Toyota, Skoda and Volkswagen.
These data are based on the Traffic Affairs Register of the Finnish Transport and Communications Agency (Traficom) and they have been produced by Statistics Finland. The numbers are exclusive of the vehicles on the Åland Islands.