November 6, 2019 at 1:45 PM
In October 2019 the number of new passenger cars registered in Finland was 9,366, which was 18% up from the corresponding month of the year before.
Overall, last month a total of 15,317 new motor vehicles were registered in the country, of which 10,925 were automobiles. First registrations increased by 11% from October 2018.
According to Statistics Finland's data, October was the second consecutive month in which the sales figures for new cars sales showed an increase in 2019 compared to 2018. The number of first registrations was lowered towards the end of last year by the new WLTP measuring method for emissions introduced at the beginning of September 2018.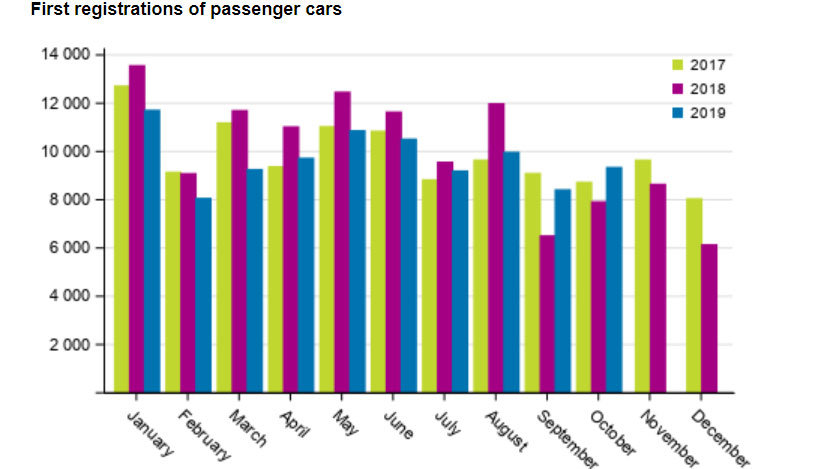 Source: Statistics Finland.
The share of new diesel-driven passenger cars was 16.4%.
These data are based on the Traffic Affairs Register of the Finnish Transport and Communications Agency (Traficom) and they have been produced by Statistics Finland. The numbers are exclusive of the vehicles on the Åland Islands.
January to October
Despite those recent sales rebounds, the January to October aggregated figures still show a decline. The number of passenger cars first registered in these last ten months was 97,299, which is 7.9% down from the year before.
The most common passenger car brands first registered in the January to October period were Toyota, Volkswagen and Skoda.
Overall, since the beginning of the year, a total of 162,279 motor vehicles were first registered. Compared to the year before, there was a decrease of 2.8%.