December 15, 2021 at 8:35 AM
The real estate sector in Spain it recovering rapidly after the crisis caused by the coronavirus. Prices are on the rise and home sales also continue to rise steadily, reaching levels that have set off some alarms because many Spaniards are reminded of the times of the real estate bubble fifteen years ago.
According to the latest data published by the Spanish statistical office (INE), in October 46,242 homes were sold in Spain, which is 22% more year-on-year.
This is the highest increase recorded in an October month since 2007, just before the outbreak of the global financial crisis.

Source: Spanish statistical office (INE).
With this, the housing market has already accumulated eight consecutive months of interannual increases of over 20%.
Housing prices, meanwhile, are rising at a rate of over 4% an the granting of mortgages is at record levels of the last ten years.
This is the seventh time this year that the number of home sales has exceeded 45,000.
Several causes
Experts in the Spanish real estate market point to several causes for this vibrant dynamism. Homes are also seen as a safe investment and well managed end up generating income.
Fotocasa's Director of Studies, Maria Matos, told ABC newspaper that the rise in property sales cannot be explained only by the interest of private buyers.
According to Matos, the real estate market is also attracting investors as a refuge, in which real estate assets always tend to appreciate."
The president of TecniTasa, José María Basañez, told ABC that the demand for home purchase is currently solid, but the demand for rent is even more so. Therefore, there would be investors who would be buying apartments with a view to renting them later.
According to this expert, a culture change on property is currently taking place among the Spanish population, and there is a greater proportion of young people who have to rent. This is happening because they cannot consider a purchase, since they cannot gather the necessary savings to take out a mortgage, nor do they have the job security to ensure that they will maintain the necessary level of income.
By region
The Spanish regions with the highest annual increases in the number of home sales in October are the Balearic Islands (57.7%), Cantabria (41.2%), La Rioja (41.1%) and the Valencian Community (32.7%).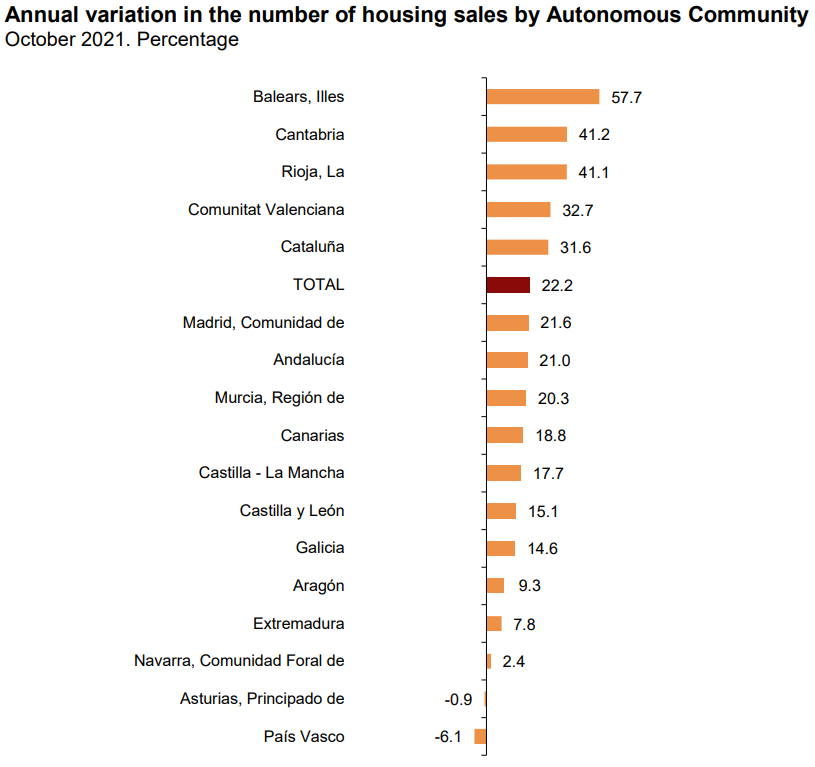 Source: INE.
The only regions that recorded year-on-year falls in home sales in October were the Basque Country (–6.1%) and Asturias (–0.9%).