December 10, 2021 at 11:22 AM
House prices in Spain continue their unstoppable rise one year after the country suffered the hardest restrictions due to the Covid-19 pandemic.
The real estate business is experiencing a period of expansion that has brought prices above the levels of 2019, that is, before the coronavirus broke into the world.
According to the latest data from the Spanish statistical office (INE), homes in Spain became more expensive on average by 4.2% in the third quarter of 2021 compared to the same period of 2020. This rate is 9 tenths higher than that registered in the previous quarter and it is also the highest recorded since the third quarter of 2019.
It is important to clarify that the Housing Price Index (IPV, in its Spanish acronym) published by the INE did not register year-on-year decreases even in the worst months of the pandemic. With this, there are already 30 consecutive quarters of increases, but the most recent evolution shows how recently the real estate market has been reinvigorated.
By type of home, the annual growth of newly built homes decreased by almost two points, to 4.1%, while the rise in prices of second-hand homes reached 4.3%, almost a point and a half higher than in the previous quarter.
Prices by region
In quarter-over-quarter terms, prices rose 2.1% between July and September 2021 compared to the April-June period. In this case the rise is greater in newly built homes (2.8%), compared to 1.9% for second-hand homes.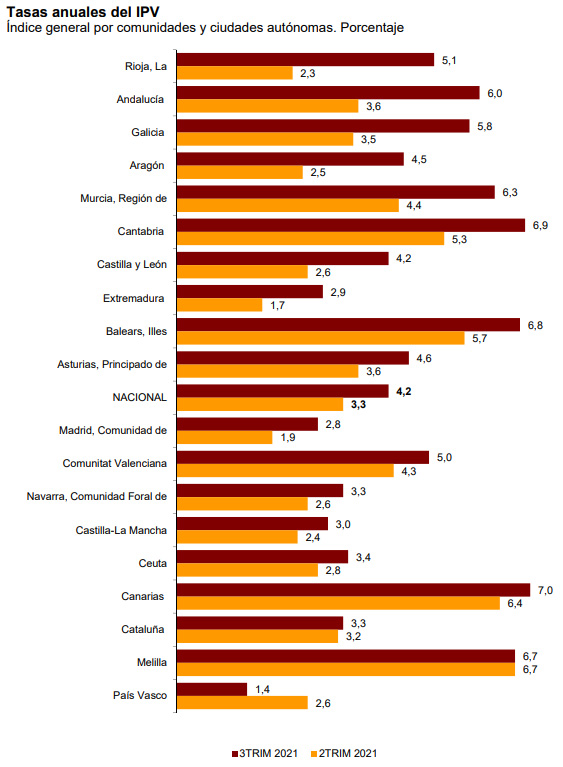 Rates of year-on-year home price increases, by region. Source: INE.
House prices increased year-on-year in all the regions (comunidades autonomas) of Spain. In fact, all regions except the Basque Country registered growth rates higher than those of the previous quarter.
The most pronounced year-on-year increases in house prices in the third quarter occurred in the Canary Islands (7%), Cantabria (6.9%), the Balearic Islands (6.8%) and Melilla (6.7%). The Basque Country (1.4%), Madrid (2.8%) and Extremadura (2.9%) are the regions where home prices increased the least in the past 12 months.
Prices rose throughout the territory also quarterly.