November 15, 2021 at 10:58 AM
The housing market in Spain continued to show signs of post-pandemic reactivation for another month.
According to the latest figures released Monday by the Spanish statistical office (INE), registered home sales increased 40.6% in September compared to the same month the previous year. In total, there were 53,410 transactions, the highest number in a month of September since 2007.
The sale of homes has seen positive year-on-year rates for seven consecutive months.
Home sales in September were also up 7.1% from the previous month. In the previous month, August, home sales registered an increase of 57.9% year-on-year but were down 0.7% compared to July.
In September, 20.5% of the homes transferred by sale were new and 79.5% were second-hand.
The number of sales of new homes increased by 30.1% compared to September 2020 and that of used homes by 43.6%.
By region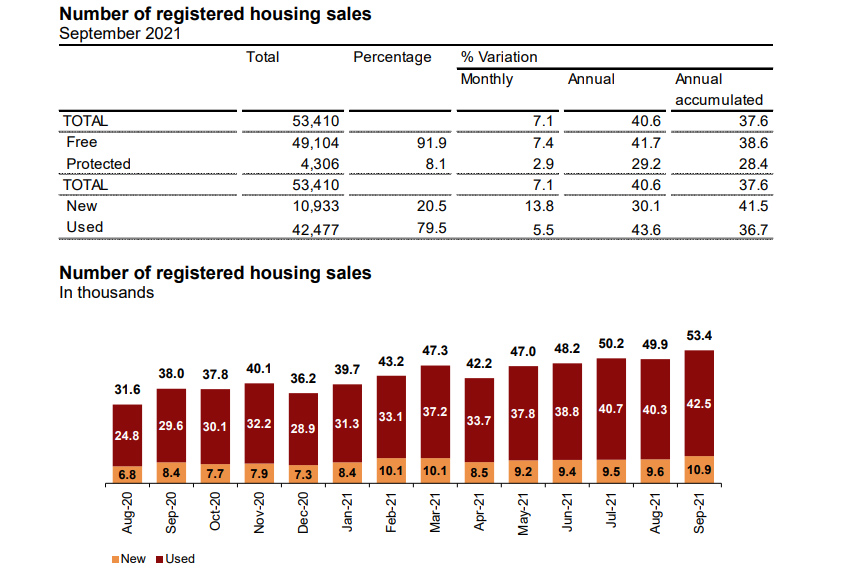 Source: INE
The Spanish Mediterranean coast stands out for the dynamism of its real estate sector. The regions with the highest number of home transfers per 100,000 inhabitants were Comunitat Valenciana (190), Andalucía (177) and Region of Murcia (161).
But the regions with the highest year-on year increases in the number of home sales in September were Navarra (68.3%), the Basque Country (55.9%) and Andalusia (54.9%).