October 8, 2021 at 11:22 AM
Home sales increased 57.9% year-on-year in Spain in August, which may seem like one of the least successful months to buy or sell a house due to the summer holidays. Perhaps that is why the monthly evolution of sales registered a decrease of 0.7% compared to July.
The figures are part of the property sales statistics produced by the Spanish statistics office (INE).

Source: INE
According to official data, 19.3% of the homes transmitted by sale in August are new and 80.7% are used.
The number of sales operations on new homes increased by 40.9% compared to August 2020 and that of pre-owned homes by 62.6%.
In annual terms, the number of free-market homes transferred by sale increased by 58.7% and that of government-subsidized dwellings by 50.1%.
Highest annual increases
The regions (autonomous communities) with the highest number of property sales per 100,000 inhabitants are Comunidad Valenciana (183), La Rioja (181) and Andalusia (155).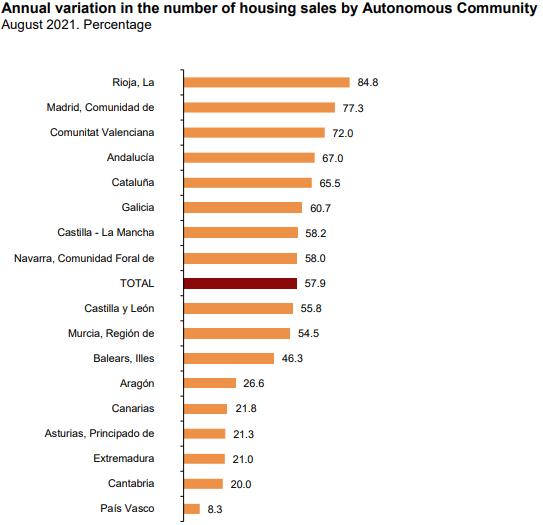 Source: INE
In absolute terms, the Autonomous Communities with the highest annual increases in the number of home sales in August were La Rioja (84.8%), Madrid (77.3%) and Comunidad Valenciana (72.0%).
On the other hand, the Basque Country (8.3%), Cantabria (20.0%) and Extremadura (21.0%) registered the lowest increases.