January 23, 2022 at 9:52 AM
Which are Mallorca's typical dishes?
Many tourists come to the Spanish island in search of delicious food, especially paella. The truth is that paella is from Valencia - it is also served anywhere else in Spain-, but there are far more options to taste.
Here you have our 10 gastronomic proposals to enjoy authentic Majorcan food.
Fancy some tapas?
Tapas are worldwide known as a Spanish distinctive and Mallorca isn't away from this. Actually, there is a typical tapa from the island known as variat, a mix of different sort of food: Spanish tortilla, Olivier salad, croquettes, fried squid, etc.
The composition of the variat is different depending on where you go, but it doesn't change the fact that it is a mixture of many ingredients. But what else can be found in Mallorcan gastronomy?
One example is coca de trampó, a salty pastry with a topping of tomato, pepper and onion. It is the kind of dish that can be found easily in any bakery in Mallorca.
This is the kind of dish always present on family meeting, among other meetings, but it is also a suitable food for taking away.
If anybody wishes a lighter version of coca de trampó, then eating only the salat is another option. It's called simply trampó and the popularity of this dish is higher during the summer.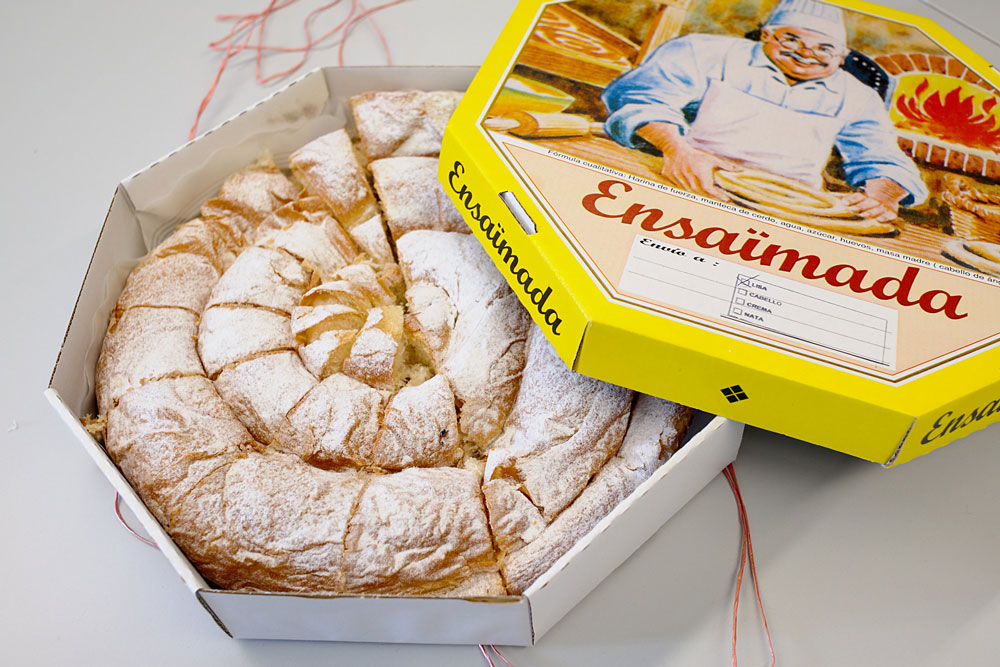 A traditional Mallorcan ensaimada. Photo: Roger Ferrer Ibáñez/Flickr.
Sweets, pastries
When talking about sweets, there is no doubt that ensaïmades are one of Mallorca's better-known foods. When tourists visit the island, many of them decide to bring one back home. It is a common view in the airport: the characteristic octagonal box on different hands heading up to many destinations in Europe.
Ensaïmades are typical pastries highly valued in Mallorca. It is made out of saïm (that's where the name comes from), which is pig fat, so the traditional recipe is not meant for vegetarian people. Mallorcan families use to serve it as a dessert, particularly during special days, like holidays, birthdays or just when the whole family gets together on Sundays.
There are different fillings for the ensaïmada, such as chocolate, custard or cabello de ángel (like a jam, usually made of pumpkin). But for those that prefer a simpler version, there is the plain ensaïmada, with no filling.
Another typical sweet from Mallorca is coca de patata (potato cake). Actually, this pastry is traditionally from Valldemossa, a little town on the mountains. Any bar or bakery in Valldemossa offers the potato cake. Actually, it doesn't taste like potato, but it's still a very sweet and spongy pastry that many people look for when travelling to this town in the mountains.
Delicious sobrassada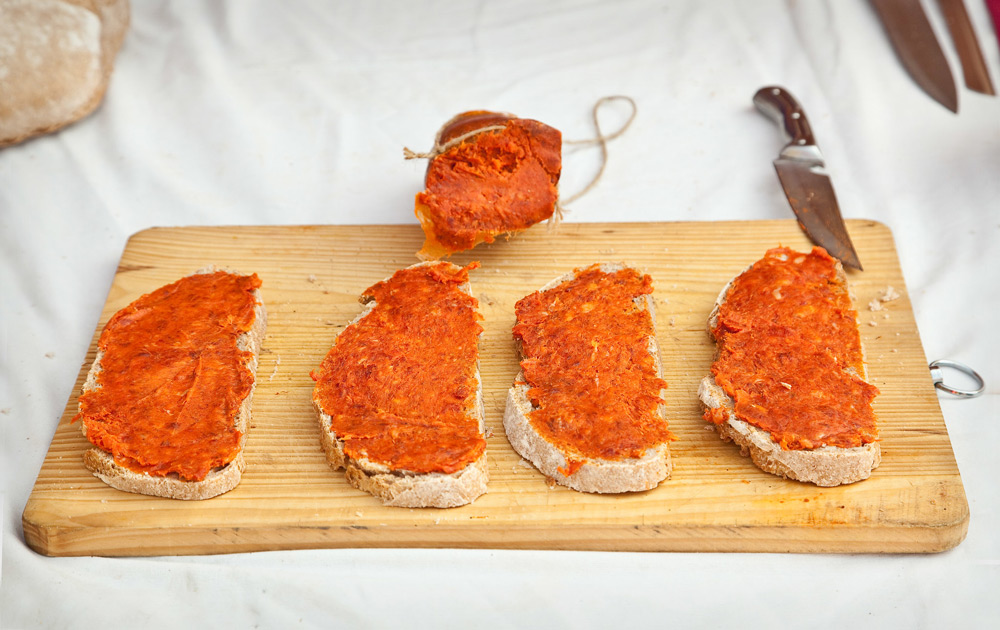 Bread with sobrassada. Photo: Juan Antonio Capó Alonso/Flickr.
Another traditional food from Mallorca is the sobrassada, a kind of sausage consisting basically in pork meat and paprika. This spice is the one that brings the red colour, but also makes it very spicy.
Frequently, it is eaten spreading the sobrassada on bread. It doesn't necessarily need to be cooked or heated before, but anyway during barbeques a lot of people choose to put a piece over the grill.
More about spicy food: fideus de Vermar. It basically consists of a very spicy meat soup with noodles. It can be a challenge to eat the entire dish for people that can't stand this kind of food.
Fideus de Vermar are served in the town of Binissalem, in the center of the island of Mallorca, near the mountains. It is typical to eat this dish during Sa Vermada, the local festival held in September.
A few kilometres up to the north of Binissalem, there is the home of the most famous biscuits of Mallorca. The city of Inca is the place where Quely's olive oil biscuits are being made.
These biscuits -known just as Quely - suit whether with sweet or salty products. While kids use to take them with chocolate, adults can eat Quelys with olive oil or foie gras, for example.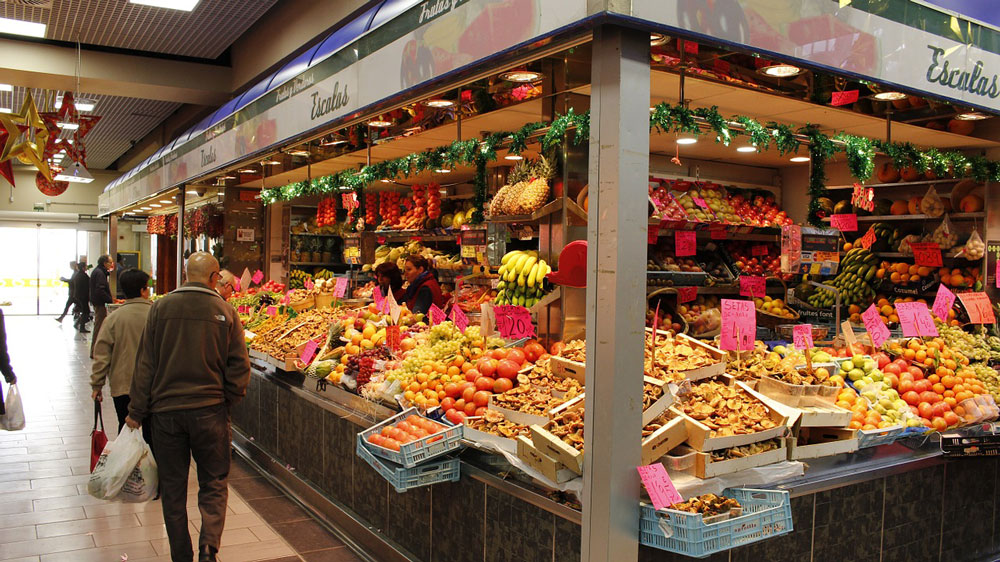 A fresh food market in Palma. Photo: Pixabay.
Christmas food
Moving to Christmas time, in Mallorca it is a tradition to eat porcella, even though it can be also consumed throughout the year. Translated into English, porcella would be roasted suckling pig.
Porcella is usually served with potatoes, cooked also in the oven. Mallorcans love when the skin becomes crunchy, but at the same time it is a challenge for chefs, since they have to keep the meat juicy.
For veggies
Finally, there goes a vegetarian option: sopes mallorquines (Mallorcan soups). This is the kind of soup that at the end of cooking it doesn't have almost any liquid. Most of it is absorbed by the traditional bread (pa de pagès) that it's added.
The rest of the ingredients are different types of vegetables, such as tomato, onion, artichoke or cauliflower.
*Pablo Morilla is a journalist, author of the blog Michan en Finlandia.