June 18, 2022 at 10:10 AM
In Spain, it is said that if you shout certain names on the street, like José, Antonio or María, someone will react and look back at you. However, it seems that the popularity of these names is slightly declining and other names are coming into play.
Which are the most popular given names in newborn babies? The Spanish National Statistics Institute reveals that in 2021 Martín is the most common name for boys, while Lucía is set to be the favourite for girls.
The trend has changed in the last year, since the most popular name for boys was Hugo since 2018 and now it is the second on the list.
Meanwhile, Lucía has been on the top of the chart for almost two decades, since 2003.
But is this situation the same in every region of Spain? Martín and specially Lucía are widely common in most of the regions (the autonomous communities), but there are some exceptions that show the existence of the different cultures in the country.
Amira, Mohamed
Ceuta and Melilla are two Spanish exclaves (autonomous cities) in North Africa. As a result of the Arabic influence, the most common names for babies are Amira for girls and Mohamed and Amir for boys.
In regions where another language is spoken there are also some differences. Marc has been the name that parents have given to boys in Catalonia and the Balearic Islands, two autonomous communities where Catalan is one of the official languages.
Something similar happens in the Basque Country and Navarre. Ane and Nahia are the most chosen girl names respectively, while for baby boys Markel is the most common in the Basque Country.
Top 10 – Most popular given names for baby boys
Martín
Hugo
Mateo
Leo
Lucas
Manuel
Daniel
Alejandro
Pablo
Enzo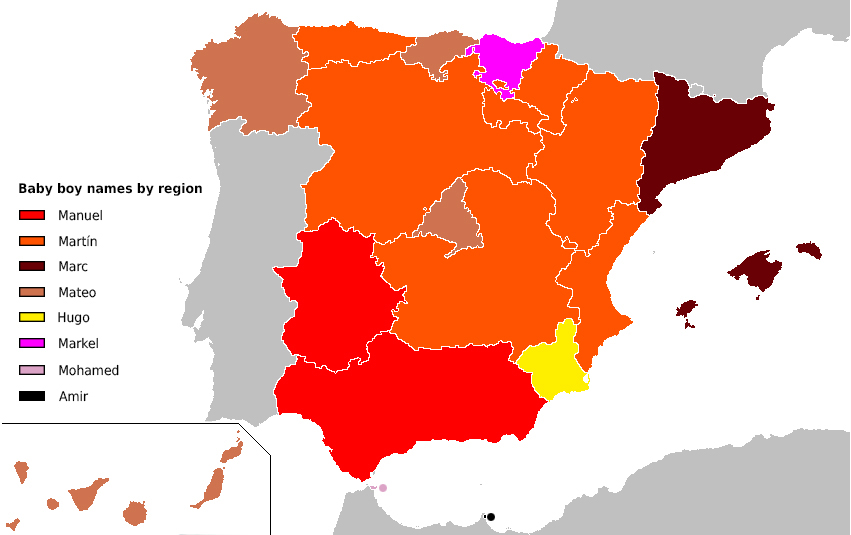 Top 10 – Most popular given names for baby girls
Lucía
Martina
Sofía
María
Valeria
Julia
Paula
Emma
Daniela
Carla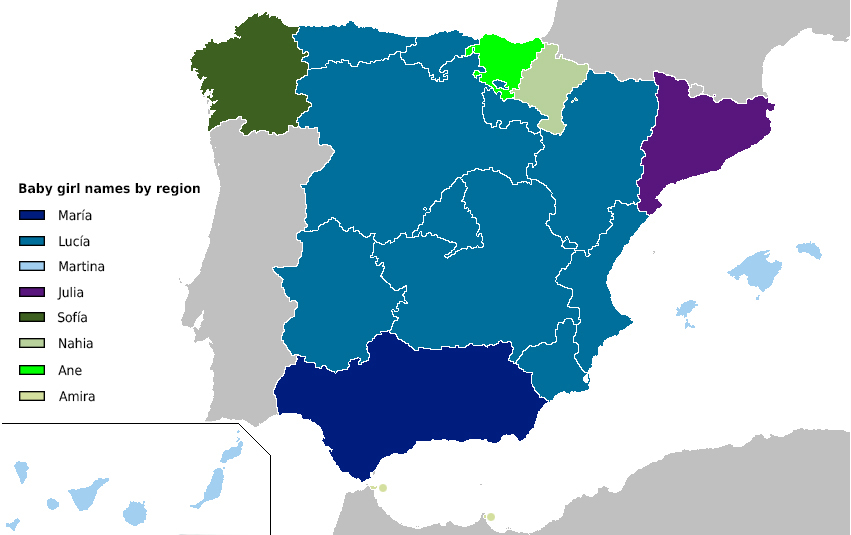 *Pablo Morilla is a journalist, author of the blog Michan en Finlandia.