January 9, 2022 at 5:47 PM
A daring youth zombie nightmare will hit the world in January 2022.
This is the Netflix series All of Us Are Dead, an original fiction about a group of students who get trapped in their high school, forced to survive under extreme circumstances while waiting to be rescued from a zombie invasion.
The US streaming company unveiled on the penultimate day of 2021 a poster and a trailer with the release date of All of Us Are Dead, which captures the tension and suspense and heralds the imminent arrival of a new horde of Korean zombies.
The series is based on a popular webcomic by Joo Dong-geun, billed as a "Korean zombie graphic novel" with overflowing imagination, gripping and detailed plot. The news that Netflix was going to adapt it into a series aroused great interest.
Director Lee JQ - known for the series Beethoven Virus and Damo, as well as the recent film Intimate Strangers - and scriptwriter Chun Sung-il - known for his limitless range of genres, which includes television series such as L.UC.A.: The Beginning and The Slave Hunters, and the film series The Pirates — have come together to capture the desperate struggle of teenagers to survive trapped in their high school.
The cast is made up of young actors such as Park Ji-hu, Yoon Chan-young, Cho Yi-hyun, Lomon, Yoo In-soo, Lee You-Mi, and Lim Jae-hyeok, who add freshness and color to the story.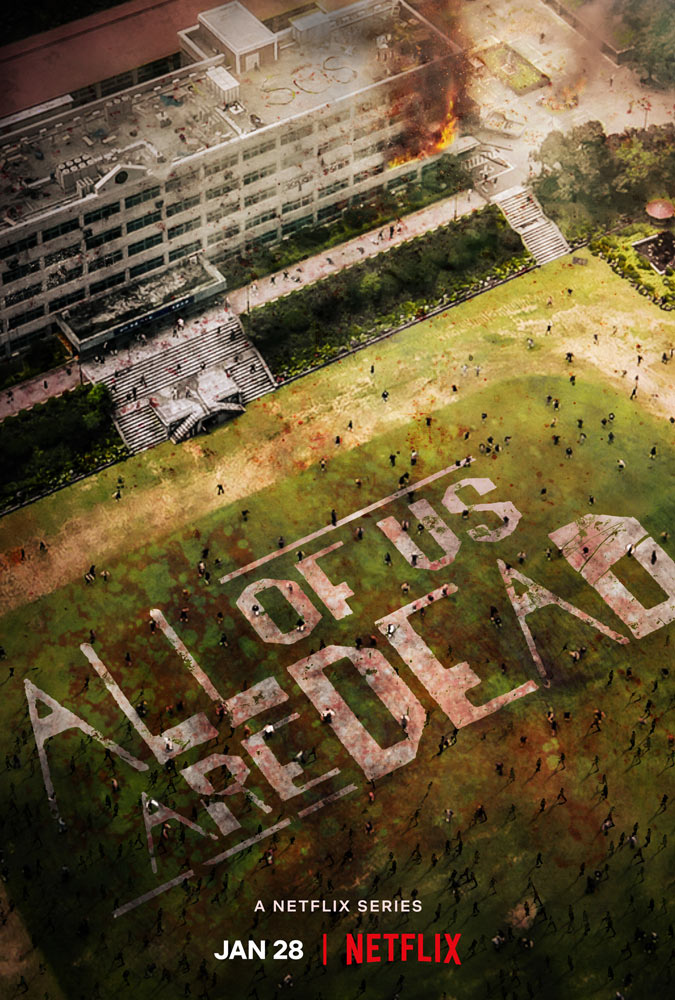 The teaser poster of the series 'All of us are dead'. Image: Netflix.
The trailer
The eye-catching teaser poster shows a high school ravaged by chaos and terror. The bloodstained playground, the building engulfed in flames and a bunch of students trapped in the maddening school awaken the intrigue of the public and give a clue to the far-fetched story: a mysterious zombie virus is born in a high school.
The trailer announcing the premiere presents the intense battle between the students turned into zombies and the survivors, who are desperate to escape.
It begins with a student in the school laboratory, and invites the public to find out more about this virus that is causing chaos. Also not to be missed are the terrifying images of students infected by the mysterious zombie virus and the action scenes set in various locations downtown.
Trapped in a virus-ridden high school with no cell phones, food or anyone to help, students arm themselves with lamps, bookshelves and bows to fend off zombies in a frenzied fight for survival. Netflix says that All of Us Are Dead is a totally new chapter in zombie fiction, with a story about young people who find love and friendship in the middle of the zombie apocalypse.
All of Us Are Dead will premiere in Spain and also in the rest of the world on January 28, only on Netflix.