November 13, 2020 at 8:31 PM
Finnish health authorities reported Friday 513 new coronavirus infections in the past 48 hours. In addition 4 patients died in the last two days, 2 of them in Kuopio, 1 in Oulu and 1 in Tampere.
More specifically, the National Institute for Health and Welfare (THL) said 197 new infections were found on Thursday and 316 on Friday.
With this increase, the total number of infected people in Finland since the start of the pandemic rises to 18,858.
To date, the Nordic country has also reported 369 deaths associated with the Covid-19 disease, most of them (291) occurred in the Helsinki-Uusimaa region.
According to THL, 49% of the fatalities are men and 51% are women. The vast majority of them (over 95%) had one or more previous long-term illnesses.
The average age of the deceased is 84. The coronavirus epidemic has not increased overall mortality in Finland, THL says. Deaths among working-age people are very rare and no deaths in children and adolescents have been reported so far.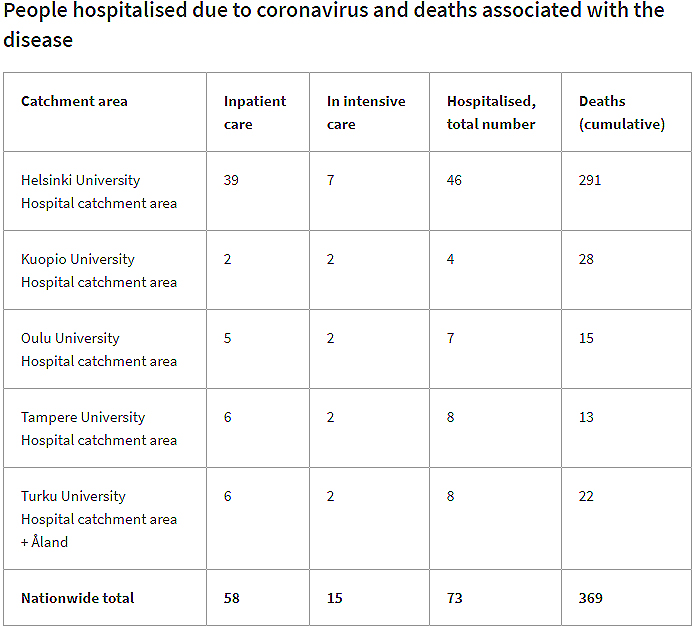 Source: THL.
More in intensive care
On Friday the number of people hospitalized due to Covid-19 disease remained stable at 73. However, the number of patients admitted to intensive care units increased by 1, to 15.
The country's incidence of cases is also increasing slightly. According to the European Centre for Disease Prevention and Control, at the time of writing this article the number was 53.9 cases per 100,000 inhabitants in the past two weeks.
However, the situation is very different depending on the region.
In the area of ​​the capital city and its surroundings (Helsinki-Uusimaa), the most populated region of ​​the country and the epicenter of the epidemic, the incidence is almost double, 97.5 cases per 100,000 inhabitants in the preceding 14 days, according to THL.
The largest number of new cases have been recorded in the hospital districts of Helsinki and Uusimaa (the capital city and surroundings), Southwest Finland (Turku), North Ostrobothnia (Oulu) and Pirkanmaa (Tampere).