October 13, 2020 at 10:08 PM
Finland has managed to maintain a relatively low number of deaths from coronavirus since the beginning of the epidemic. Thus far, 346 people have died in the country from the Covid-19 disease, according to the figures from the National Institute for Health and Service (THL).
The scarce data and figures released by THL show some clues about the average profile of people who have succumbed to the disease so far. Of them, 48% were men and 52% were women.
The median age of the deceased is 84 years, but there is also a significant number of deaths over the age of 90 and between the ages of 70 and 80.
According to THL, the majority of the deceased (over 90%) had been previously diagnosed with one or more long-term illnesses.
Deaths of working-age people "are very rare," THL says, and - fortunately - no deaths of children and people under 20 years have been reported.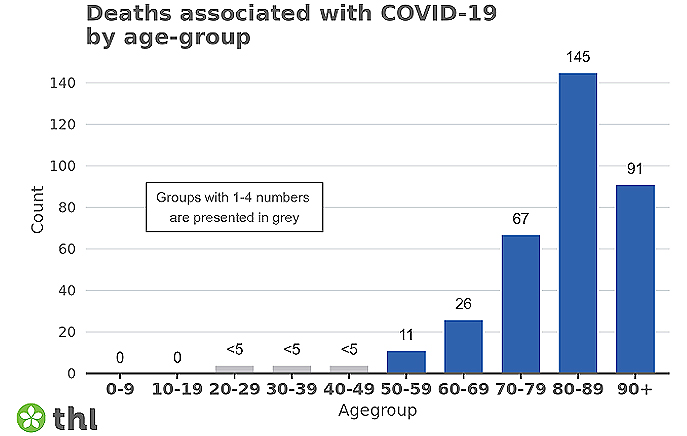 287 new infections
Finland recorded 287 new coronavirus infections in the past 24 hours, according to the daily count from the National Institute of Health and Welfare (THL). These new infections reported on Tuesday by the health agency bring to 12,499 the total number of cases registered in the country since the start of the pandemic.
The majority of new infections (83) have been diagnosed in the city of Vaasa (on the west coast), which has been hit hard by the virus in the last two weeks.
Currently, there are 46 people in Finnish hospitals due to Covid-19, of which 5 are admitted to intensive care units.
Incidence of new cases
The incidence of new cases also increased recently. During the most recent fourteen-day follow-up period (September 27 to October 10), 2,551 new cases of the disease were diagnosed and the incidence relative to the population was 46 cases per 100,000 inhabitants.
According to THL, during the above mentioned period the incidence increased in 16 of the 21 regions of the country compared with the previous 14 days.
The largest number of new cases have been recorded in the hospital districts of Helsinki and Uusimaa, Central Finland, Pirkanmaa, South Ostrobothnia, Northern Ostrobothnia, South Savo, Northern Savo, Southwest Finland, Kanta-Häme, Central Ostrobothnia, North Karelia, Lapland and Vaasa.
In the other regions where new cases have been diagnosed, there have been fewer cases, under 20 per region, THL says.