December 5, 2021 at 5:31 PM
Thousands turned out in various European cities at the weekend to demand freedom of movement, police said, after authorities across the continent have restricted movement in an effort to keep the coronavirus from spreading faster.
In Luxembourg, protesters stormed a winter market following rallies against the Grand Duchy's Covid-19 policies. They had disregarded the market's entry rules and pushed barriers aside, the police said.
There were some "minor altercations" and the Christmas market was closed. Because the protesters were also heading for the Chamber of Deputies, the entrances there were blocked by police officers. Around 2,000 people had attended the demonstrations.
Meanwhile, police in Vienna reported that 40,000 had gathered in the Austrian capital on Saturday, many in opposition to a vaccine mandate expected to enter into force in February. Five people were arrested.
Protesters bore signs saying "No to Vaccine Mandates" or "Jesus Protects the Children, not Vaccines." Many ignored mask requirements. Four officers were injured during the arrest of an inebriated demonstrator, the police said.
In lockdown
Austria has been in lockdown since mid-November, with the restrictions set to be in place through December 11.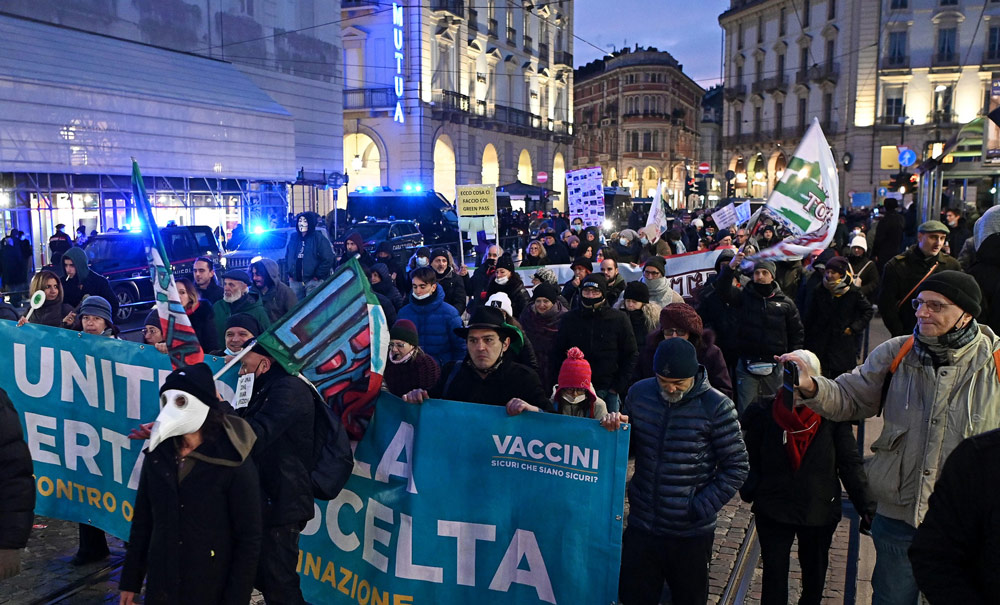 People take part in the 'No Green Pass rally' in Turin (Italy). Photo: Alessandro Di Marco/dpa.
There were also reports of 5,000 people marching in protest in Utrecht (Netherlands), although there were no reports of violence in the Dutch city, unlike in recent demonstrations against coronavirus rules.
Italian authorities also reported a variety of demonstrations across the country, ranging from a few dozen people in Rome to thousands in Turin and Bologna. There were no reports of violence, but multiple incidences of people ignoring rules requiring the use of a mask.