October 6, 2020 at 4:02 PM
The Finnish government is preparing new measures to curb the spread of the coronavirus, Prime Minister Sanna Marin said after the number of diagnosed cases soared this week nationwide.
The National Institute for Health and Welfare (THL) reported 227 new infections on Tuesday, the highest figure this fall. These cases add to the 458 diagnosed over the last weekend. So far, Finland has reported 10,929 cases of the new coronavirus.
The country has gone in just two weeks from reporting relatively low daily numbers of infections to more than two hundred. Likewise, the incidence of the Covid-19 disease has also increased and currently is 30 new cases per 100,000 inhabitants in the past two weeks, according to the European Centre for Disease Prevention and Control (ECDC).
The figures related to Covid-19 continue to rise across the country despite the fact that the Government has recently expanded its recommendation to use face masks and has also tightened restrictions in bars and restaurants from next Thursday. The situation is deteriorating rapidly, so the Ministry of Social Affairs and Health (STM) is preparing a new package of measures against the virus, Marin wrote in her Twitter account.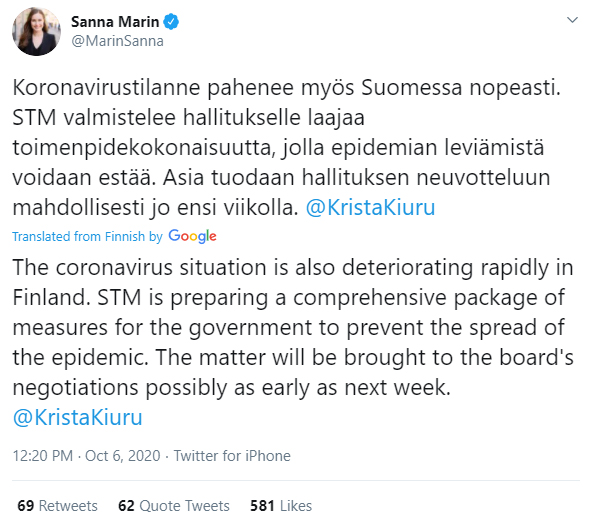 7 in intensive care
According to the Prime Minister, the Government will discuss this new package of measures at its meeting next week.
To date, the coronavirus has killed 346 people in Finland, most in the Helsinki region, where the epicenter of the pandemic is. However, in recent weeks there has been a notable increase in cases in the other provinces of the country, which has set off some alarms and led the authorities to tighten some restrictions.
On Tuesday, the authorities were especially concerned about the situation in the city of Vaasa, on the west coast of the country, whose hospital district reported 71 infections.
The situation in the hospitals is still good. At present, 28 people remain hospitalized, of which 7 are in intensive care, according to THL figures.