The number of coronavirus (koronavirus, in Finnish) infections diagnosed by laboratories increased by 62 in the past 24 hours and is now 1,446.
The latest figures published by the National Institute for Health and Welfare (THL) show that most of those new cases were found in the Uusimaa region (Helsinki and its surroundings).
Despite government orders to restrict movements, tighten controls at airports and isolate the capital area to contain the spread of the virus, the number of infections registered in the region of Helsinki increased to 934.
This is 38 cases more than those reported on Tuesday and this amount also represents 61% of the total of new infections detected in Finland.
The management of the situation in Uusimaa was worth much criticism to the Government recently, after the local media denounced that thousands of Finnish tourists returning from epidemic areas were allowed to enter the country without any health control and then go home freely, most of them using the public transport.
"We have not succeeded perfectly in everything," Prime Minister Sanna Marin admitted at a press conference Wednesday morning, referring to the matter.
"Information has not flowed as it should have, and coordination has not worked as it should have. That is why we have had problems with Helsinki-Vantaa Airport," she added.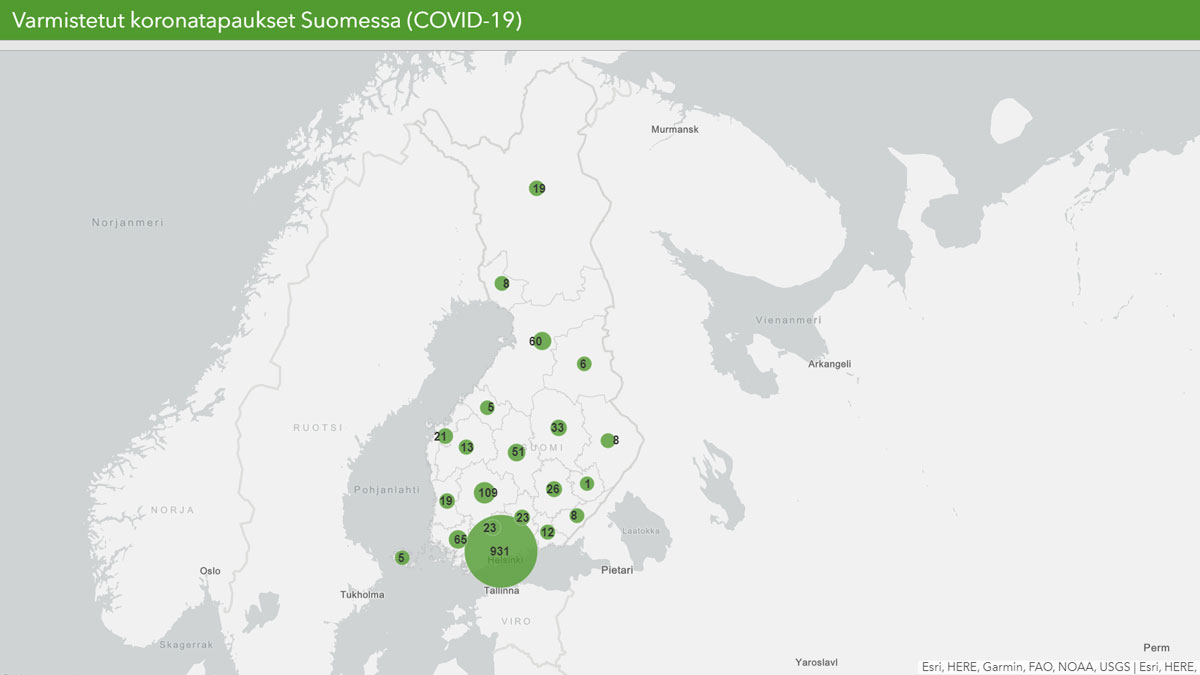 Map of the coronavirus infections reported on Wednesday 1 April at 9:30. Image: THL.
The highest death toll
The situation is also worrying, due to the high number of cases detected, in the areas where other major cities are located: Tampere (109 cases), Turku (65), Oulu (60) and Jyväskylä (51) regions.
At the time of writing this article, THL had not yet released updated data on the number of deaths. But until Tuesday, 17 deaths caused by coronavirus had been reported by the health agency, the vast majority of them (13) also in the Helsinki region and its surroundings.
As of Friday 27 March, Uusimaa is isolated from the rest of the country. The challenge for the Finnish authorities is to prevent the virus spread also to other parts of Finland, where the hospital system is weaker, the population is older and there are less intensive care units.
Since the entry into force of the movement restrictions, the residents of Uusimaa must stay in the Uusimaa region. Residents of other regions are not allowed to visit Uusimaa. However, everyone has the right to return to their home or place of residence. Recreational travel is not allowed.
The flow of goods is not prevented.
These restrictions do not apply to movement within Uusimaa. Internal movement of people is still permitted.