September 16, 2020 at 6:11 PM
The Finnish coronavirus tracing application, Koronavilkku, which helps to break chains of coronavirus infection, has already been downloaded over 2 million times. The milestone of 2 million downloads was reached two weeks after the application became available for download in app stores, the National Institute for Health and Welfare (THL) says in a press release.
'We all now have a genuine opportunity to help break the chains of infection, because so many of us have started using Koronavilkku," says Aleksi Yrttiaho, Director of Information Services at the Finnish Institute for Health and Welfare.
However, the press release does not say how many of the people who downloaded it have already removed it from their mobile phones.
Some users have complained through social media of technical problems, for example compatibility issues with some phone models or that the obligation to have the Bluetooth connected constantly consumes too much battery.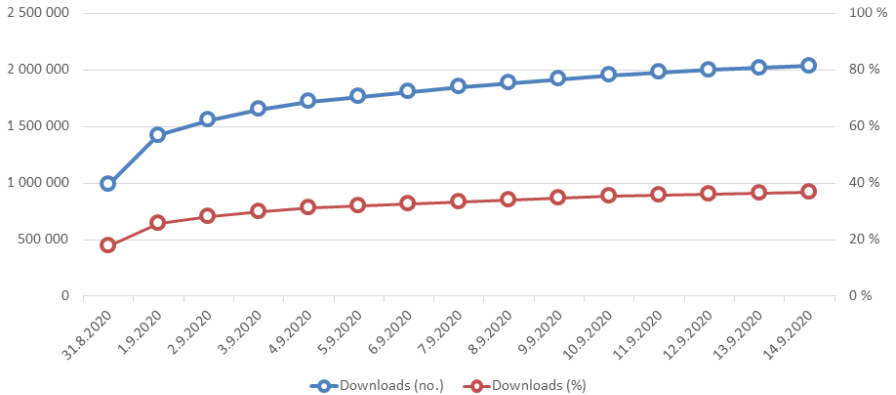 Koronavilkku downloads, in absolute numbers and as a proportion of the population. Source: THL.
218 infection notifications
So far, 218 users have sent an infection notification, according to THL.
Users can report that they have been infected by entering a single-use unlock code received from a healthcare professional responsible for infection tracing. The application then passes this information on to those who may have been exposed to the infection.
The unlock code is only given in case of a laboratory-confirmed coronavirus infection. The recipients and the sender of the warning are not informed of each other's identity.
THL 'proud of Finns'
Between 1 September and 15 September 2020, 35% of the people diagnosed with coronavirus infections used the application to report the infection, THL says.
"It is easy to be proud of Finns, because here we are setting an example for the rest of the world. We Finns have shown that we can take responsibility together for breaking the chains of infection. Our next goal is to further increase the application's coverage," explains Risto Kaikkonen, Director of the Health and Wellbeing Division at Solita.