December 4, 2020 at 8:45 PM
The coronavirus continues to spread and kill people in Finland.
On Friday 4 December, the National Institute for Health and Welfare (THL) reported 876 new infections diagnosed in the past 48 hours (540 found on Thursday, 336 on Friday), bringing to 26,758 the total number of cases found since the beginning of the pandemic.
In addition, THL reported 7 more deaths associated with the disease since Wednesday. So far, 415 people have died from the Covid-19 disease in Finland. Most of those fatalities (316) occurred in the capital region.
On Friday, the government also announced a tightening of restrictions for bars and restaurants in many Finnish regions.
From Saturday 5 December, the bars, pubs and restaurants of Uusimaa, Kanta-Häme, Päijät-Häme, Kymenlaakso and North Ostrobothnia, the regions which have entered the spreading phase of the epidemic, must stop serving alcohol at 22:00 and close at 23:00.
Restrictions regarding opening hours and the amount of customers have also been tightened in the regions of Finland entering the acceleration phase.
According to THL, the three stages of an epidemic are the baseline, acceleration and spreading (also called community transmission) phases.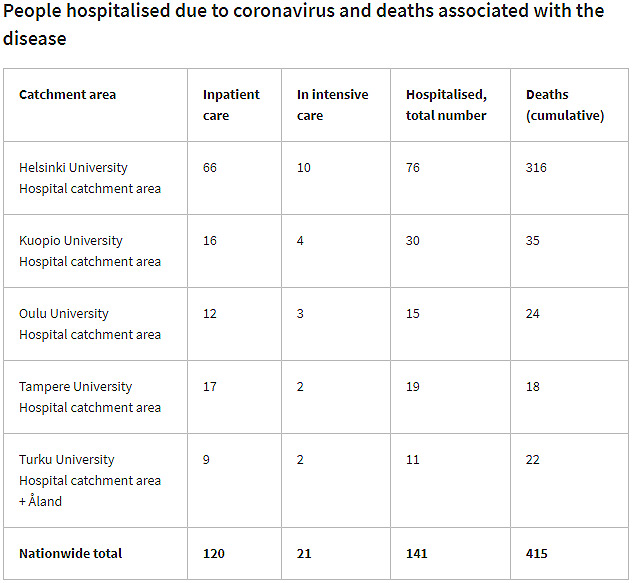 Source: THL.
Fewer hospital patients
On Friday, the number of people hospitalized due to Covid-19 disease fell by 24, to 141, compared with two days before. The number of patients admitted to intensive care units remained stable at 21.
The country's incidence of new cases also increased during the last 48 hours. According to THL, on Friday it was 103.5 cases per 100,000 inhabitants in the past two weeks. However, the situation is very different depending on the region.
In the Helsinki-Uusimaa area, the most populated part of the country, the incidence nearly doubles the national average: 195.9 cases per 100,000 inhabitants in the preceding 14 days, according to THL's figures.
Vaccination
Finnish health authorities have been warning about the deterioration of the situation in recent weeks, particularly in the Helsinki region.
On Thursday, the government approved its strategy to vaccinate the entire population, which will be carried out in stages once the vaccine is available.
First, health personnel and risk groups such as the elderly and people with pathologies that may cause a predisposition to suffer from Covid-19 more seriously, will be vaccinated. Next, the government intends to offer free vaccination to all residents.