October 12, 2020 at 10:09 PM
Finland continues to be immersed in a phase of expansion of the coronavirus, which in the last week has accelerated its spread, as reflected in the latest figures published by the health authorities.
According to the latest data released on Monday by the National Institute of Health and Welfare (THL), the country reported 632 new Covid-19 infections compared to last Friday, bringing the total number of infections to 12,212.
The number of new infections reported on Monday 12 October (632) is 38% higher than the 458 cases reported last Monday. The good news is that this time there were no deaths over the weekend. So far, 346 people have died from Covid-19 in Finland since the pandemic began.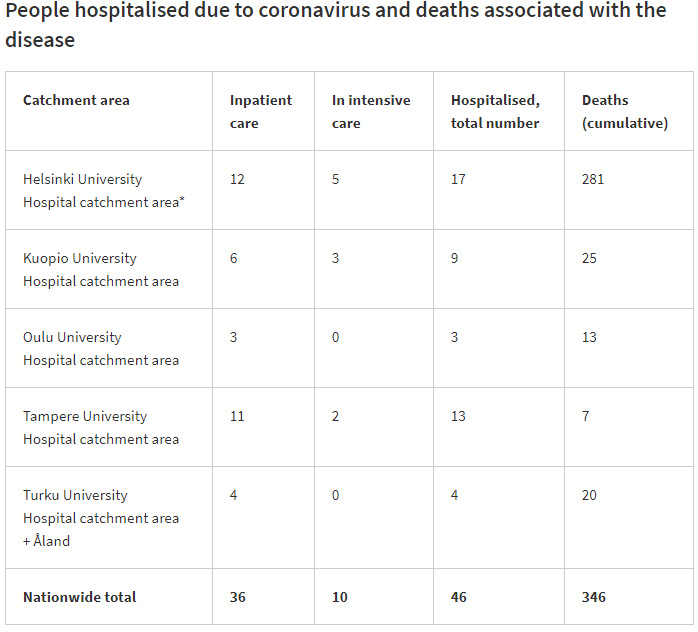 Source: THL.
Incidence of new cases
The figures also show an increase in the number of people hospitalized due to the Covid-19 disease, which now stands at 46. Of these, 10 are admitted to intensive care. These numbers show an increase of 9 hospital patients and 5 intensive care patients compared to last Friday. In fact, the number of intensive care patients has doubled.
The incidence of new cases in relation to the population is also increasing fast. Now it is 42.5 cases per 100,000 inhabitants in the last 14-days period.
However, there are large variations in the infection rate. For example in the Helsinki-Uusimaa area - the epicenter and worst hit region - it has soared to 72.8 new infections per 100,000 residents, while in Satakunta (the region around the city of Pori) it is just 6 cases per 100,000 in the past 2-week period.
Finnish laboratories have carried out more than 1,190,900 tests. An estimated 8,500 people have recovered from the disease, representing more than 75% of the reported cases.