December 16, 2020 at 8:50 PM
On Wednesday 16 December, the Finnish National Institute for Health and Welfare (THL) reported 411 new coronavirus infections diagnosed in the past 24 hours, bringing up to 31,870 the total number of cases found since the pandemic started.
THL also reported 6 more deaths associated with the disease. So far, 472 people have died from the Covid-19 disease in Finland. Most of those fatalities (345) occurred in the capital region (Helsinki-Uusimaa), which is the worst hit area by the pandemic.
On Wednesday, the total number of people hospitalized due to complications linked to the Covid-19 disease decreased to 268, which is 16 less than the day before.
The number of patients admitted to intensive care units decreased by 1, to 34.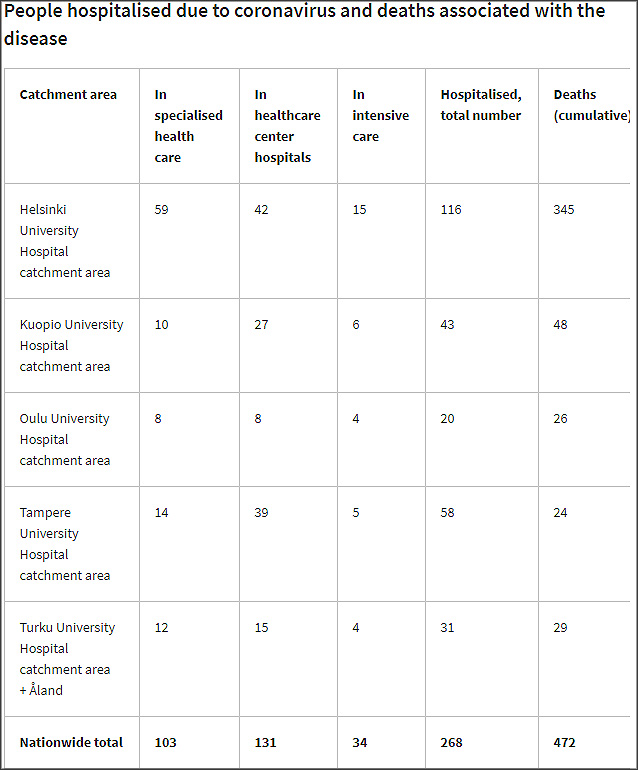 Source: THL.
Incidence of new cases
On Wednesday, the country's incidence of new cases remained almost unchanged. According to THL, it was 106.5 cases per 100,000 inhabitants in the past two weeks for the whole country. However, the situation is very different depending on the region.
In the Helsinki-Uusimaa area, the most populated part of the country, the incidence for the preceding 14 days was 186.3 new cases per 100,000 inhabitants, THL's figures show.
In contrast, in the Lapland hospital district the incidence is much lower, 30.7 cases per 100,000 residents.
Currently, the lowest incidence in Finland is in the Kainuu region, whose main city is Kajaani, where only 9.7 new cases per 100,000 inhabitants have been diagnosed in the past 2-week period.