December 23, 2020 at 8:08 PM
Finland's health authorities reported 13 more deaths associated with the Covid-19 disease on Wednesday 23 December.
These fatalities bring the total death toll in Finland to 524 since the pandemic started, according to the National Institute for Health and Welfare (THL).
Most of the deaths (368) occurred in the capital region, the epicenter of the epidemic and the worst hit area.
In addition, the National Institute for Health and Welfare (THL), reported 367 new infections.
So far, the total number of diagnosed cases in the Nordic country amounts to 34,084.
The number of people hospitalized due to the Covid-19 disease is 258. Of them, 26 are in intensive care units.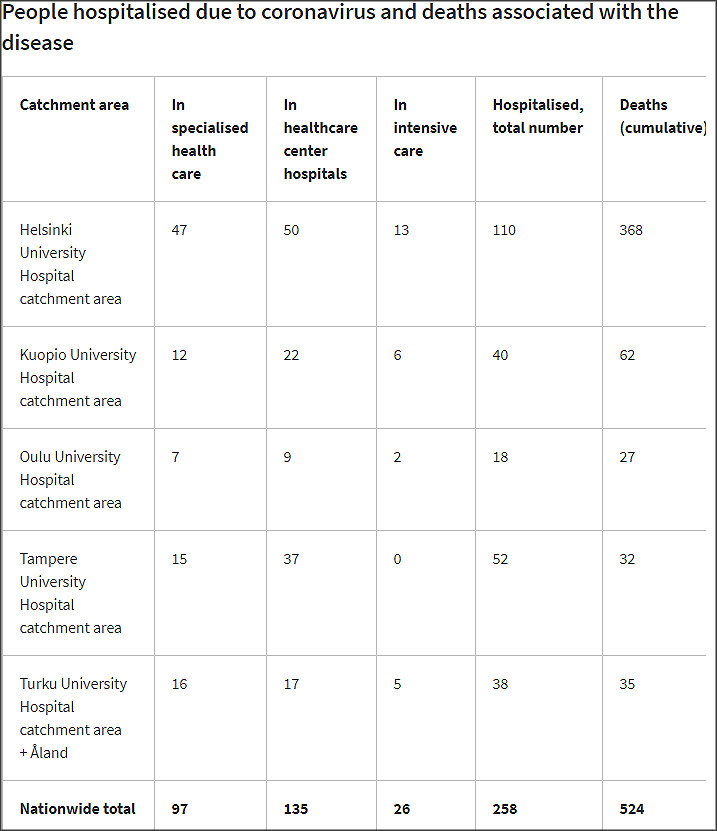 Source: THL.
Incidence of new cases
The country's incidence of new cases continues to decrease slightly. According to THL, at the time of writing this article it was 93.3 new infections per 100,000 inhabitants in the past two weeks for the whole country.
However, the situation varies depending on the region.
In the Helsinki-Uusimaa area, the most populated part of the country, the incidence for the preceding 14 days was 163.9 new cases per 100,000 inhabitants, THL's figures show.
In contrast, in the Lapland hospital district the incidence is much lower, 23 cases per 100,000 residents.
Currently, the lowest incidence in Finland is in the Central Ostrobothnia hospital district, whose main city is Kokkola, where only 5.2 new cases per 100,000 inhabitants have been diagnosed in the past 2-week period.