Finland has registered 6 more deaths from coronavirus (koronavirus, in Finnish) in the last 24 hours. The total number of fatalities reported in Finland is 40, according to the statistics released by the National Institute of Health and Welfare (THL, in its Finnish acronym).
The age is known for 28 of the deaths.There are two dead between the ages of 40 and 59, seven between the ages of 60 and 79, and 19 over the age of 80. The median age of the deceased remains unchanged, 84 years.
The vast majority of the deaths (25 or 62.5%) took place in the hospital area that includes the capital region (HYKS). In fact, Finland recorded on Wednesday 3 more deaths in the Helsinki metropolitan area.
In addition, 3 other deaths were reported on Wednesday in the hospital region around the city of Kuopio (KYS).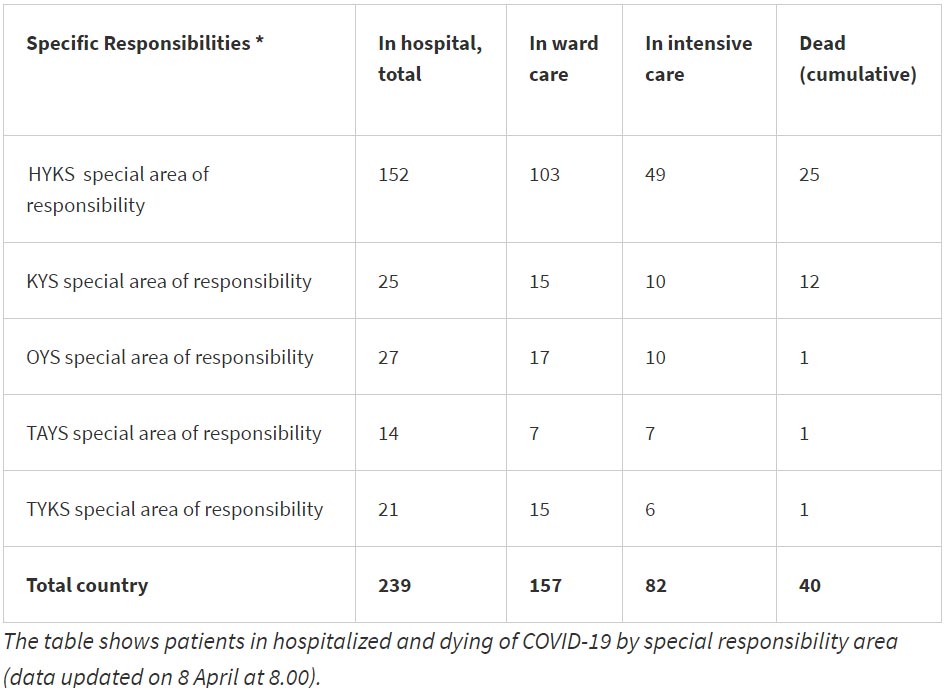 In intensive care
The number of hospitalized coronavirus patients also rose to 239. And the number of people admitted to intensive care units is 82.
Finland has also diagnosed 179 more Covid-19 infections in the last 24 hours. To date, 2,487 cases have been found throughout the country. Of them, the vast majority (1,568 infections) have been reported in the region Helsinki-Uusimaa
An interesting statistical change is that for the first time there are more infected women (50.5%) than men (49.5%).
According to THL, to date, Finnish laboratories have taken samples from 36,500 people and the testing capacity has been increased to 4,000 tests per day.