August 10, 2020 at 10:00 PM
The Covid-19 disease, caused by the new coronavirus, has claimed two more lives in Finland. The country's health authorities had not reported fatalities since 4 August.
According to the figures published on Monday by the Finnish National Institute for Health and Welfare (THL), the number of deaths from the virus increased by 2 compared to last Friday. These 2 new deaths that occurred over the weekend were recorded in the Helsinki and Turku + Åland hospital districts.
On Monday 10 August, THL also reported 47 new infections. In addition, there is again a patient in intensive care. In total, there are 5 patients receiving hospital care, in the Helsinki and Turku areas.
The highest incidence of the disease is currently found in the Helsinki-Uusimaa region and in the North-West area, next to the Swedish border.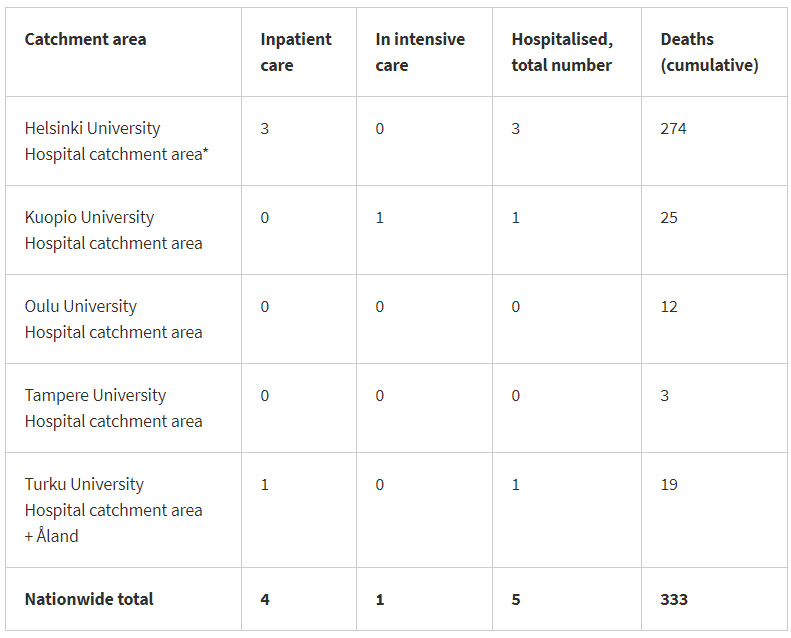 Source: THL.
7,601 cases and 333 deaths
To date, Finland has registered 7,601 coronavirus infections and 333 deaths.
The epidemiological situation, which was good at the beginning of the summer, has deteriorated during July and August.
The government admitted last week that the situation is getting worse. The spread of the virus has accelerated and its reproduction number already indicates that currently each patient infects more than one person. Schools are set to reopen in 2 days.
Meanwhile, the government has been unable to decide for two weeks whether it is appropriate to issue a general recommendation on the use of masks in public places or not.
The final yes or no, which was announced two weeks ago for last week, was later delayed to this week. And it hasn't been said yet. In the absence of a decision, the masks have started to sell out in some stores.
During the past week there was also worrying news about infections and exposures to the virus in public places like the Helsinki amusement park (Linnanmäki), in restaurants, in private events and on cruise ships.