November 30, 2020 at 3:03 PM
The coronavirus epidemic in Finland continues to rise, as does the number of deaths.
On Monday 30 November, the National Institute for Health and Welfare (THL) reported 1,146 new infections (541 found on Saturday, 322 on Sunday and 283 on Monday), bringing to 24,912 the total number of cases diagnosed since the beginning of the pandemic.
In addition, THL reported 6 new deaths associated with the disease in the past 72 hours, 3 of them in the Helsinki region, 2 in the Tampere hospital catchment area and 1 in the Kuopio area. So far, 399 people have died from the Covid-19 disease in Finland.
New restrictions imposed in the Helsinki region came into force on Monday. Basically, throughout this week it is expected that the new limits on public meetings, the closure of municipal facilities and the limitations on leisure activities will become effective. On Thursday, distance learning will begin for secondary education students in the area.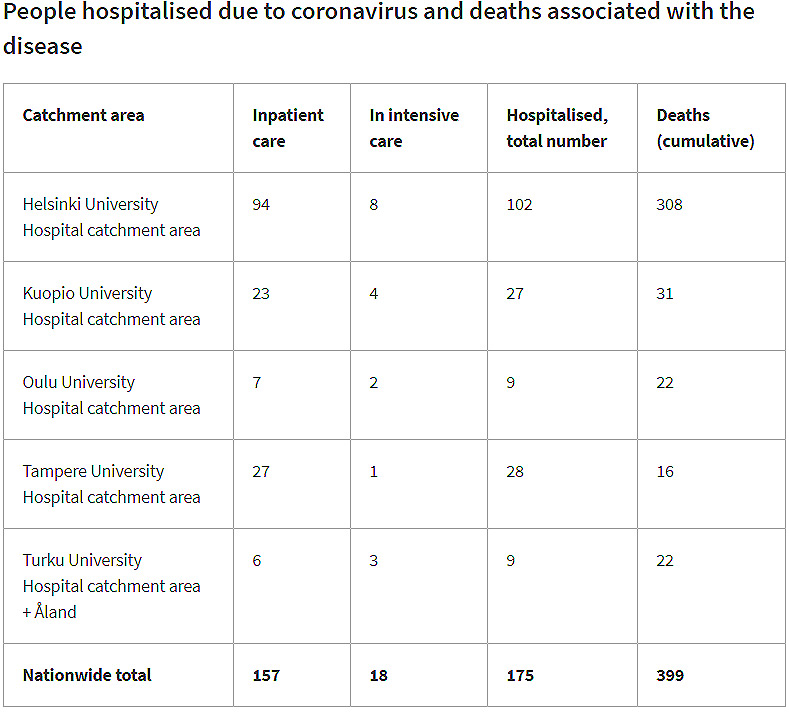 Source: THL.
The deterioration of the situation in the Helsinki region (epicenter of the epidemic in Finland) is evident. On Monday, the Helsinki Uusimaa health authority (HUS) asked the government to make the use of a mask mandatory in public transport. For now, the authorities have just recommended its use.
Sharp increase in hospital patients
The number of people hospitalized due to Covid-19 disease also increased sharply to 175, which is 23 more than last Friday, when THL published its previous updated report. The number of patients admitted to intensive care units decreased by 1 to 18.
The country's incidence of cases also increased during the last three days. According to THL, on Monday it was 93.8 cases per 100,000 inhabitants in the past two weeks. However, the situation is very different depending on the region.
In the Helsinki-Uusimaa area, the most populated of the country, the incidence doubles the national average: 187.7 cases per 100,000 inhabitants in the preceding 14 days, according to THL.