October 14, 2020 at 10:10 PM
The coronavirus epidemic in Finland continues to worsen. On Wednesday, Finnish health authorities reported 4 deaths from Covid-19, an unusually high number for a country that so far is one of the least hit in Europe by the pandemic.
Again, the number of positive cases reported in the last 24 hours remained above two hundred. According to the National Institute for Health and Welfare (THL), on Wednesday 204 new infections diagnosed in laboratories have been reported to the infectious diseases registry.
The data published by THL also shows that of the last 4 deaths, 2 occurred in the Helsinki hospital district - so far the epicenter of the epidemic in the country - 1 in the Tampere hospital district and another in Oulu.
So far, the number of fatalities recorded in Finland is 350. Of them, 47 percent were men and 53 percent were women. The median age of the deceased is 84.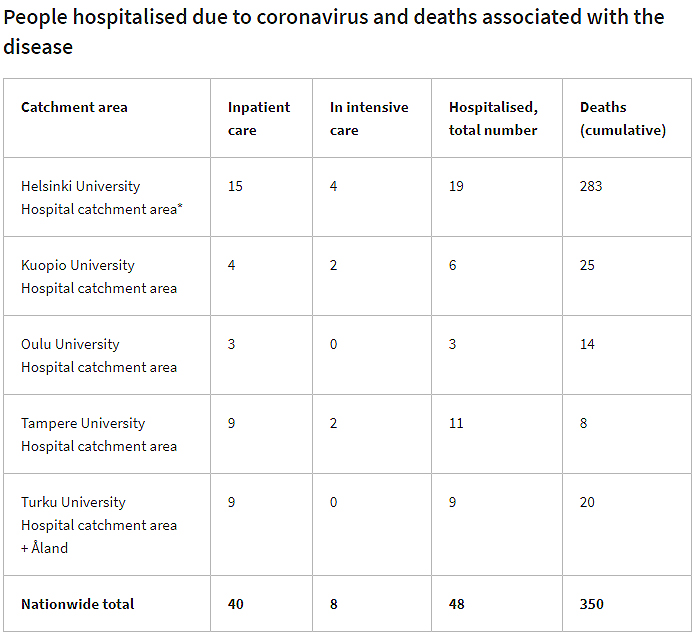 More in intensive care
In the last 24 hours there has also been an increase in the number of people admitted to hospitals, which now amounts to 48. Of them, 8 are in intensive care units, three more than the day before.
At the time of writing this article, the incidence of new cases in relation to the population was 47,2 cases per 100,000 inhabitants in the last 14-day period, according to the European Center for Disease Prevention and Control (ECDC).
Finnish laboratories have carried out more than 1.24 million tests, according to THL. An estimated 9,100 people have recovered from the disease in Finland, which is about 70% of the reported cases.