August 4, 2020 at 10:10 PM
The coronavirus pandemic is far from being over, though Finland has been one of the least hit European countries so far.
On Tuesday 4 August, the health authorities of the Nordic country reported 2 new deaths in Helsinki and the admission of a patient in an intensive care unit, which had been free of people with the Covid-19 disease for five weeks.
At the same time, the National Institute for Health and Welfare (THL) reported 17 new infections. The largest number of new cases have been recorded in the hospital districts of Helsinki and Uusimaa, and Satakunta, whose capital is the tourist city of Pori.
Finland had not registered a death caused by Covid-19 since 24 July and the previous one had been on 22 June. The intensive care units were emptied since June 30, according to official reports.
Situation worsens
But now, a week before the schools reopen, the situation is getting worse. The health authorities have said that they will shortly make a recommendation on the use of face masks in some public places. Finland is one of the few countries in the world whose authorities have not yet recommended people to wear masks.
These announcements have been preceded by worrying news about recently detected outbreaks, for example in the main amusement park in Helsinki and in other leisure places, as well as in nursing homes.
Since the beginning of the epidemic, 7,483 diagnosed cases of coronavirus and 331 deaths associated with the disease have been reported by the Finnish authorities.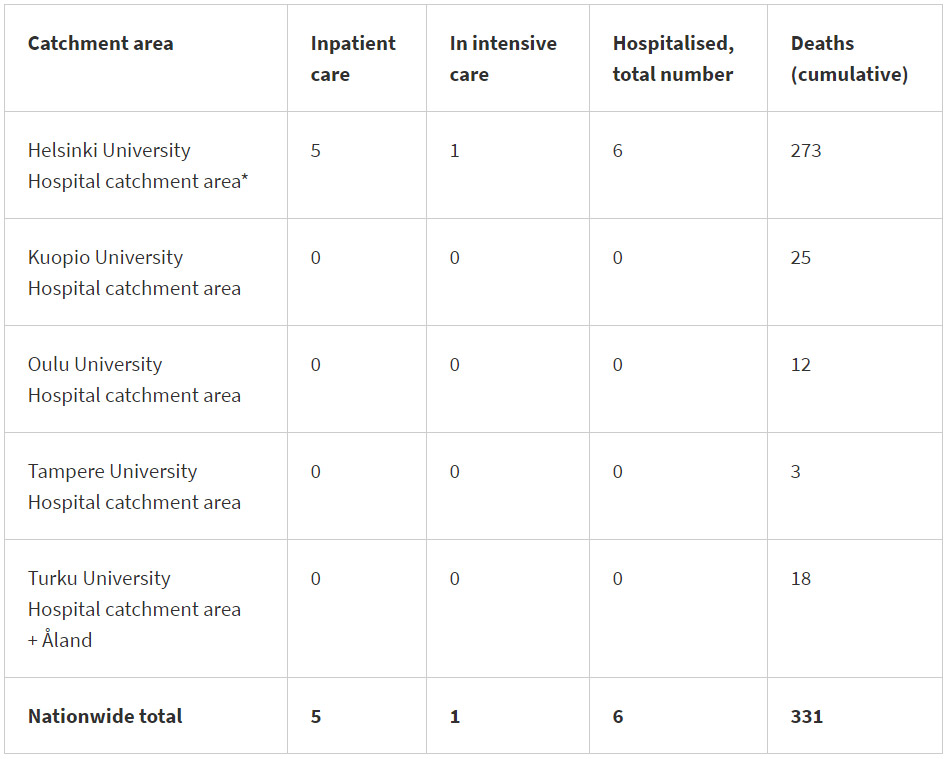 Source: THL.
6,950 people recovered
The region of Helsinki-Uusimaa remains as the worst-hit area by the epidemic. And it is also the area where 273 of the 331 deaths have occurred.
According to official figures, to date, 5,454 cases of Covid-19 have been found in the capital metropolitan area. Of them, 2,793 have been diagnosed in the city of Helsinki.
Helsinki-Uusimaa is also the region showing the highest incidence of infections: there are 323.5 diagnosed cases per 100,000 inhabitants.
For the whole country, the average prevalence of cases is less than half that in Helsinki: 135 per 100,000 people, according to THL.
According to a preliminary estimate by THL, around 6,950 people may have already recovered from the disease, which is over 90% of reported cases.
To date, Finnish laboratories have taken samples from approximately 380,800 people.