December 7, 2020 at 8:45 PM
The coronavirus epidemic has continued to spread in Finland over the weekend. The Nordic country registered 9 deaths and more than 1,100 new infections since last Friday, in addition to a sharp increase in hospitalizations.
According to the latest report from the National Institute for Health and Welfare (THL), on Monday 7 December there were 223 people hospitalized in Finland due to the Covid-19 disease, 58% more than last Friday, when 141 people were in hospital care.
The number of patients admitted to intensive care units also registered an increase of 43% on Monday, up to 30 (compared to 21 on Friday).
THL also reported 1,123 new infections diagnosed in the past 72 hours (460 found on Saturday, 413 on Sunday and 250 on Monday), bringing to 27,881 the total number of cases found since the beginning of the pandemic.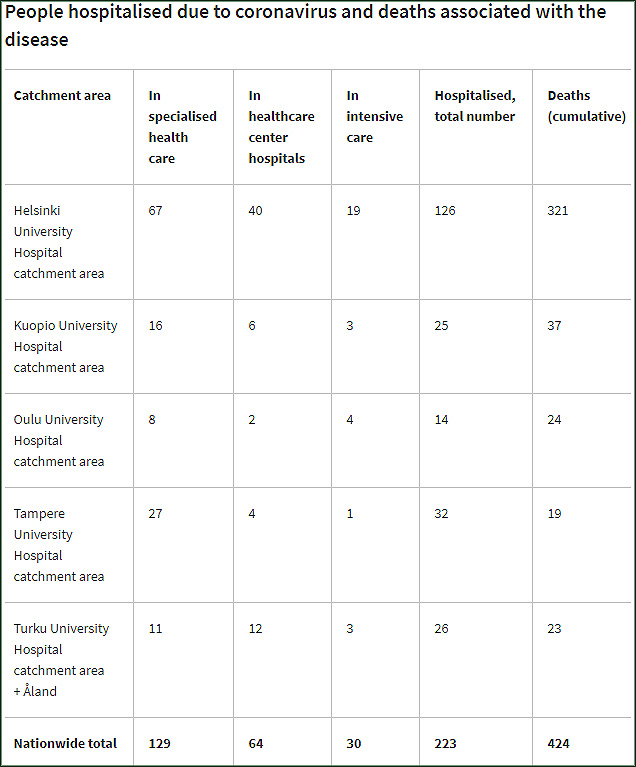 Source: THL.
9 more deaths
In addition, on Monday THL reported 9 more deaths associated with the disease occurred since last Friday. Of the deaths recorded, 5 occurred in the Helsinki hospital district, two in Kuopio, 1 in Tampere and 1 in Turku.
So far, 424 people have died from the Covid-19 disease in Finland. Most of these fatalities (321) occurred in the capital region, the epicenter and worst hit area by the epidemic.
The country's incidence of new cases also increased during the last 72 hours. According to THL, on Monday it was 104.2 cases per 100,000 inhabitants in the past two weeks. However, the situation varies depending on the region.
In the Helsinki-Uusimaa area, the most populated area of the country, the incidence nearly doubles the national average: 190.3 cases per 100,000 inhabitants in the preceding 14 days, according to THL's figures. However, it has recorded a slight decrease compared to last Friday's figure.
In Lapland, the incidence is just 24 cases per 100,000 inhabitants.