Just a couple of school days. That is the time lapse it has taken since the reopening of schools last Thursday for the discovery of a case of coronavirus in an educational center. Now the authorities have had to take measures to protect students and teachers.
According to the authorities of Porvoo (a coastal city located 47 kilometres east of Helsinki), a child who studies at Linnajoki school tested positive for coronavirus.
As a result, other 17 pupils and 4 teachers who have been exposed to the sickness have been placed in home quarantine, the city reported and Minister of Education Li Andersson confirmed in her Twitter account.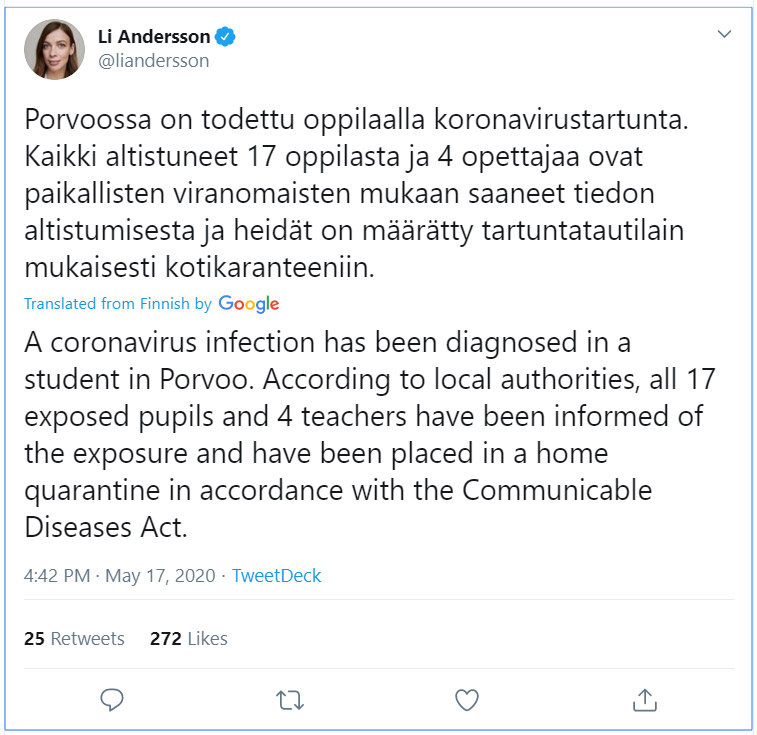 According Porvoo Medical Director Kati Liukko, the "coronavirus situation in Porvoo has been good, but in the last couple of weeks the situation has started to change, and infections and especially the number of exposed people have increased faster than before."
"The coronavirus has not passed, although the restrictive measures have now begun to be lifted. It is very important that we continue to remember to follow the guidelines for good hand hygiene as well as coughing, safety distance and gatherings," emphasizes Ann-Sofie Silvennoinen, Director of Social and Health services.
550 students
According to local authorities, about 550 children attend Linnajoki school, which has organized contact teaching since May 14 in accordance with the Government decision of lifting the closure of schools.
Local authorities also said the school would be disinfected during the weekend.
The children who are now quarantined at home will resume remote education. But those not affected by the isolation measures will continue to attend their lessons normally on Monday, following the safety and hygiene instructions given earlier by the Government.
Further instructions will be given on Monday to the students through Wilma.
So far, a total of 53 cases of Covid-19 have been diagnosed in Porvoo. Of them, more than 30 have already recovered from the disease, according to city information.